The end of October brings with it bewitching times.  Be ready for the season of goblins, whether you're attending a party, throwing one, welcoming neighborhood kids with waiting treats,or just want to remember your favorite witch or warlock with a little bit of Halloween fun.  Here's a selection of Bewitching Halloween Ideas for gifting and decorating.  The assortment you'll find on this page includes fun little ideas for yourself, or to please someone you love.  If you're bound for a costume party, take along a hostess or thank you gift to show your appreciation.  If you're the party giver, there are some suggestions for cool little things to add to your Halloween decor, too.
---
Set the Tone with Halloween Invitations, Decorations, and Music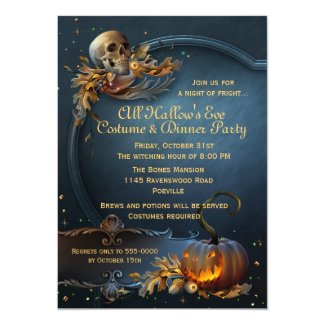 Skull and Pumpkin Custom Halloween Party Invitations
ZAZZLE.COM
One of the first things you might want to do is send out party invitations.  It's easy to have them custom printed at Zazzle, where you'll find hundreds of designs to choose from.
The card shown here is particularly attractive, with artwork by MouseArte Designs.  All the text is totally and easily customizable, with plenty of room for all the details you'll need to include, so you can make these custom party invitations uniquely your own.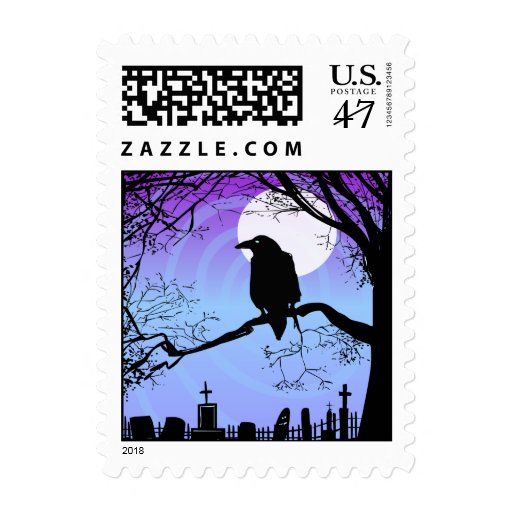 Halloween Raven in Tree by Graveyard Postage
ZAZZLE.COM
To make your mail-outs extra special, add custom Halloween stamps to your envelopes. ( BONUS: If someone on your list is a stamp collector they'll be especially intrigued!)
You won't find these at your local post office.   But don't worry.  They really are legal postage.  And, they're available in the normal denominations and sizes.
---
Do your friends know they can always count on you to make their spooky holiday special?  Whether you're decorating for neighborhood trick and treet, or a fancy costume bash, you're probably on the lookout for fun things to add to your holiday decor.
Lighted Color Changing Halloween Ghost Kid Freestanding Figure
AMAZON.COM
This little fellow will stand by your door to greet party guests and neighborhood children alike.  Some of the kids may even think he's one of them… until they see that the "head" under the sheet changes colors!  He's around three feet tall, stands on his own, and is battery operated.
Halloween Ghost Hand LED Color Changing 'Crystal Ball'
AMAZON.COM
There's no escaping it – fortunes and crystal balls are associated with All Hallows Eve.  The globe held by this disembodied ghostly hand may not be an actual crystal ball, but it will remind your guests of one.
It's the perfect size to sit atop a table in your foyer, on a mantel, or to use as a centerpiece for a snack area.
---
Halloween Music Collection by Midnight Syndicate
AMAZON.COM
If you only have a single CD, this may be just the one you want.  It's a special 13th anniversary edition from Midnight Syndicate, a group that bills themselves as the "Halloween Music Maestros."  Whether you knew it or now, you've probably heard their work before.  They create movie sound track type spooky music and sound effects specifically designed for haunted houses, yard haunts, and other ghoulish venues.
---
Halloween Gift Ideas
Black Cat Face Mug
ZAZZLE.COM
Black cats at Halloween – oh, yes!  And everyone loves a special mug.  Add those together, and you have a gift you know will be used.
This particular mug will be appreciated by witches and cat lovers alike.  It 's adorned with a close in look at the eyes and nose of a black cat.   Choose from seven different mug styles, including classic (shown), ringer, two-tone, and morphing.
Set of 12 Magnetic Halloween Drink Markers & Tags for Stemless Glasses
AMAZON.COM
Wine Glass Charms are fine, but let's face it.  They're useless unless you glass has a stem.   What if it doesn't?  What if you're not serving wind?  There's a solution: Magnetic Drink Markers.  They cling magnetically the side of any glass that's no thicker than 5 mm.  (That's pretty thick, as glasses go.)  They'll even work on those plastic disposable cups that are so common at large gatherings.
This set makes an ideal thank you or hostess gift, too!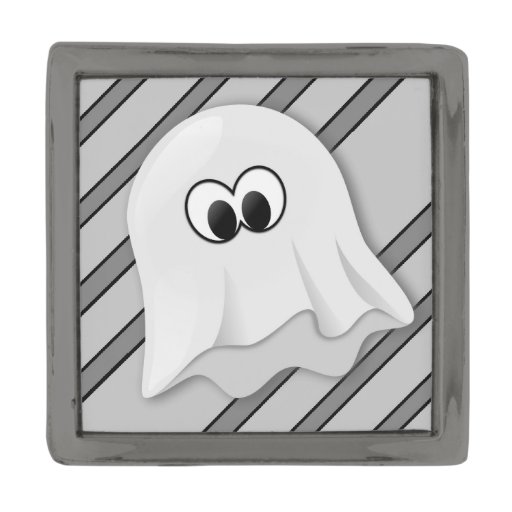 Ghost on Gray Stripe Lapel Pin
ZAZZLE.COM
Do you know someone who is quite conservative, yet would still like to display a little Halloween spirit?  Then, perhaps a lapel pin with a cute design that only whispers, rather than shouts, "Boo" is just the thing for them.  This little pin could even be worn on the lapel of a business suit during business hours, and switched over to a hat or a polo shirt collar when when the work day is done.
Haunted Lighthouses: Phantom Keepers, Ghostly Shipwrecks, And Sinister Calls From The Deep
AMAZON.COM
For you, or for the avid reader on your list is something very special for this time of year:  a book about haunted lighthouses and shipwrecks!  A collection of 28 stories centered around those beacons by the sea – real ones – by lighthouse expert and historian, Ray Jones, these tales will send chills up your spine.  Some who have visited the lighthouses in question will swear these ghost stories are true.
Making the collection all the more better is the fact that there's even information about paying visits to the lighthouses.  Read up, and then go see for yourself!
---
Special Halloween Gift Wrap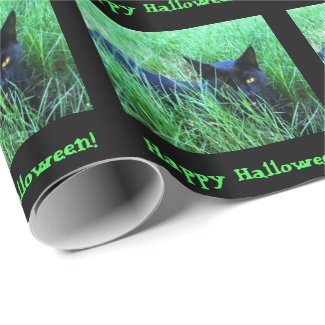 Cat-in-Grass Halloween Custom Wrapping Paper
ZAZZLE.COM
Once you've chosen the perfect Halloween gift, you'll want to present it all wrapped up in equally special wrapping paper.   The gift wrap shown here features a black cat just opening his mouth to speak… or is it to hiss?
The words 'Happy Halloween" are a custom feature, meaning you can substitute the recipient's name or other brief text instead, to make it even more personal.
---
However you choose to mark it, enjoy your Halloween Holiday!