Hissing black cats, with backs arched, evoke scary Halloween thoughts.  But, the true ailurophile (cat lover) knows there's nothing cuter than a playful black kitten, nothing more elegant than a sleek black cat, and nothing more cuddly than snuggly than a fluffy ebony kitty.  Yes, though black  cats sometimes get the short shrift, those who bother to know them really love them  They are something quite special!
There's a lot of lore surrounding black cats. It's true that in some countries, they're considered a bad omen. But in others, they are a sign of good luck.  For example, in Scotland, if a black cat arrives at your door, prosperity is in your future.
Of course, feline fanciers seem to love surround themselves not only with cats, but also with ON things.  You know, pictures or artistic representations on them on home decor items, clothing, and anything they can display prominently.   Here, then, is a fun little collection of  things to delight black cat lovers – at Halloween and year round.
---
Black Cat Halloween String Lights
AMAZON.COM
Battery Operated  Halloween String Lights
These miniature kitty cats are ready to help you host your next party. Decorate your doorway for Halloween, or even string them on your tree for Christmas.
Not your traditional string lights, these are LED  lit and battery operated.  (The string uses three AA batteries.)  And, that's not all.  There's even a remote control for the on/off and light mode selection.  You can choose for them to burn steadily, blink, or be dimmer, and even to turn off automatically.
---
Black Cat Crossing Sign
AMAZON.COM
Funny Yellow Traffic Style Sign:  Black Cat Xing
Humorous  sign modeled after a common style of roadway warning sign, this diamond shaped yellow decorative sign proclaims that a 'black cat crossing' area is being approached.
For either indoor or outdoor use, there's a pre-drilled hole for mounting.  Because it's made of vinyl, there's no worries about rusting, and the vibrant color won't fade, either.  A fun docoration for Halloween, or to post in your yard (or even the wall of your den or home office) all year long.
---
I Am Cat Puzzle Coaster Set
ZAZZLE.COM
Unique Puzzle Coasters – Regal Black Cat
Unless you live in a desert climate, you really need coasters under your drinks.  That's normal.  But, there's nothing normal about these coasters.  Not only do the feature a black cat striking a regal pose, but they can be used in two different ways.  The four standard sized coasters are irregularly shaped when used for under individual glasses.  But, those shapes fit together, like a jigsaw puzzle, to form one large (7 1/2″ square) trivet for a pitcher or other larger item.
Puzzle coasters are perfect for every day use, and a real conversation piece for entertaining.
---
Black Kittens 2017 Mini Calendar
AMAZON.COM
Cute Black Kittens All Year Round
Everyone loves a cute kitten, and you can love these black ones throughout the year with this 2017 mini (7 inches square) calendar.
It's the perfect little thank you or office gift for a cat lover.  Featured are twelve adorable little kitties  – one for each month's page, of course – to help brighten your every day activities  Also included are (non pictorial) planning pages for the last four months of the previous year.
---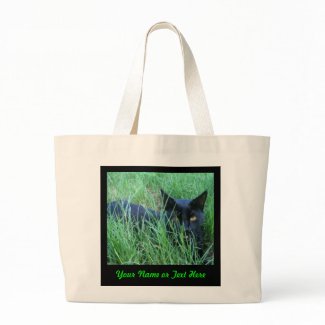 Personalized Tote for Cat Lovers
ZAZZLE.COM
Cat in Grass Personalized Tote Bag
Put your name, a Halloween greeting, or other brief text beneath the image of the "ferocious" feline on this tote bag.  The wording is your choice.  So is the bag style.  Shown is the jumbo canvas tote, but other styles are available with a click of your mouse.  They include a budget tote, tiny tote, grocery bag and the impulse style.  Some styles have color or trim color choices, as well.
Make it uniquely your own with your personalized choice of words, style, and color.
---
All Black Cats are Not Alike
AMAZON.COM
For the Ailurophile Who's also a Bibliophile
While not all book lovers are cat lovers, a large proportion of cat lovers are avid readers and collectors of books.  That's why this volume makes a near perfect gift for a cat person.  A win-win, you might say.
It's new, fresh, and thoroughly enjoyable.  The artwork and the reading are both appealing and endearing.  At the time of this writing, the still-new offering has just nine reviews on Amazon – every one of them with a five star rating!  One of them calls it touching and funny, while another says  they "… will never look at black cats the same way again."
---
Black Cat Round or Square Wall Clock
ZAZZLE.COM
Is It Dinner Time Yet?
That's what this fluffy feline seems to be thinking.  Whatever the case, any time is kitty time with the striking cat face on this  battery operated wall clock.  The stunning back lighting in this animal portrait makes this clock a real piece of wall art.
Like it?  Now, you have some choices to make!  Choose a round or square shape.  (The round comes in two sizes)  Then, choose either black or gray clock hands.
---
Sterling Silver Cat Pendant-Necklace
AMAZON.COM
Sparkling Swarvoski Feline Pendant in Sterling Silver
Most every lady loves Swarovski crystals. With black ones representing fir, and white ones making up the collar, this little kitty cat pendant is sure to become a 'go to' piece of jewelry for anyone who owns it.  Set in rhodium finished .925 sterling silver, it's sure to keep its lovely shine for years to come.
The black cat pendant hangs on an 18″ sterling silver box chain, and  will look lovely when worn with an outfit of just about any color, but will really stand out against whites and bright jewel tones.
---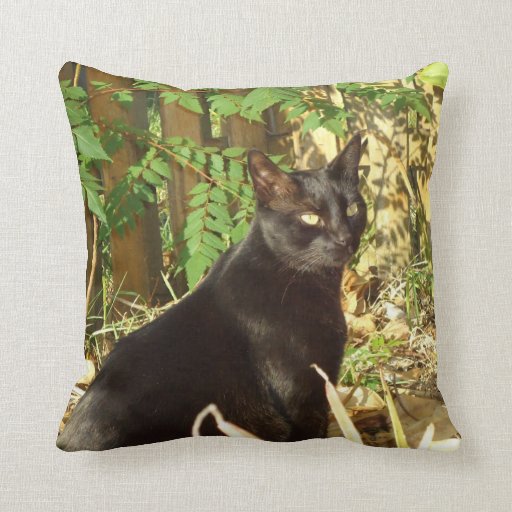 Black Cat in Morning Sun Throw Pillow
ZAZZLE.COM
Black Cat Throw Pillow Will Have You Sitting Pretty
You'll be sitting pretty, with this throw pillow featuring a sleek black cat enjoying his special spot in the morning sun.
The pillow, which includes the insert, is available in two sizes – 16″ and  20."  But wait, there's more!   There are four different styles to choose from.  Select from either polyester or cotton with a zipper closure which comes off for washing.  Third, there's a zipper-less style, which can be thrown into the washer in tact.  Finally, the mildew resistant outdoor version is tailor-made to brighten your porch or patio, and can be spot or dry cleaned.
---
Black Cat Wagging Wiper Car Rear Window Decal
AMAZON.COM
Black Cat Cuteness on the Go
For a real eye-catcher on the road, affix this ultra cute decal to the center of your back window, positioned where the rear wiper base is at the base of the cat's tush.  Turn on your wipers, and the wiper becomes your furry little traveling companion's wagging tail!  How cute is that?
Made in the USA,  of all weather vinyl, it's just 4 to 6″ wide, so as not to block your view of the road behind you.
This little number is perfect for the man or woman who likes to travel the road in cat-tastic style!
---