Did you know that several sources cite bowling as the number one participatory sport in America?  Some 50,000,000 Americans bowl at least once a year, and a chunk of those hurl the ball down the lane on a regular basis.
Score a strike with your favorite bowler with one of these bowling gifts.  Pick up a spare item or two for your team mates on the bowling league, too.   It will be a real win for you when you please an alley cat with a bowling themed wall clock, a simple blower's key chain, or even find the perfect custom team shirts.  Those, and other bowling themed gifts are highlighted on this page.  Read on to find something perfect for the bowler in your life/
---
Bowling Themed Wall Clock
ZAZZLE.COM
You'll never be late for bowling night again with this strike themed wall clock.  It's the absolutely perfect home decor item for the kitchen, den, man cave, or even the bedroom of any avid bowler.   On it, a ball scatters ten pins against a dramatic black background.
Choose from round or square styles with either black or gray clock hands.
---
Foot Traffic Men's Tan Bowling Socks
AMAZON.COM
Hit the lanes in style when you don these fun bowlers' socks featuring a view of a lane, complete with arrows, and with a full rack of pens at the end.
Made of a combination of  cotton, nylon, polyester, and spandex they provide comfort for hours of active fun, these are a little different than the ones bowlers' socks you often see.  Instead of  white pins scattered around on a black background, these are tan, with a graphic of an actual bowling lane.
---
Bowler's Personalized Bag Tag
ZAZZLE.COM
Tag your bowling bag or even your travel luggage with a personalized luggage tag.  This one has a cute bowling graphic on one side, and your name and contact information on the other.  Personalize it using the easy fill in the blank template provided.
The tag is made of durable acrylic that's waterproof and UV resistant.  The leather strap for attaching to your bag is included.
---
Bowling Pin Coin Bank
AMAZON.COM
Does your team have a rule that you have to pay a quarter each time you miss an easy spare?  Then, this coin bank's for you!  Who knows?  You just may have enough at the end of the season to take everyone out for a night on the town!
In the shape of a bowling pin, it's 9.5″ tall, with a rubber plug in the bottom for emptying the bounty out after all is said and done.
---
Custom Shirts with Team and Individual Names
ZAZZLE.COM
Outfit your team with personalized shirts!  A cool graphic of a ball barreling down the lane is emblazoned across the back, and a smaller version on the left front.  Fill in the template blanks for your team name in larger letters under the flaming ball on the back, and the first name of members under the one on the front.  You'll be the envy of other teams all up and down the lanes!
The polo style shown is available in white or gray, and there are dozens of other styles to choose from, as well.
---
Bowling Pins Shoe Covers
AMAZON.COM
Every bowler NEEDS a pair of shoe covers?  Why?  Because the special soles of a bowling shoe must be kept dry.  When a bowler delivers the ball onto the lane, their final step is a slide motion.l  The sole of the shoe is specially made to facilitate this foot action.  However, it only works correctly if kept dry and clean.  If the bottom shoe surface gets wet, the 'slide' becomes a 'stick,' and the unfortunate sportsman can easily end up face first on the lane, ruining his shot, and worse, potentially suffering an injury.
To keep the sole dry during a quick trip to the restroom, a shoe cover is essential!
These ten pin print covers are not only effective, but are fashionably perfect for any special event, or just everyday practice sessions.  Be sure to pay special attention to the sizing guidance to get the correct fit!
---
Wings and Wishes Bowling Angel Tac Pin
AMAZON.COM
An ideal little Christmas, birthday, or end of season gift for a lady bowler. Would she like to have an angel watching over her game?  Well then, that's what this little pin is especially designed to do. She can pin it on her bowling shirt, or even put one on her shoe laces to inspire a great game.
With European crystal accents, and layered in sterling silver and 18 karat gold, this bowling angel comes gift boxed, and ready to present to your own special bowler.
---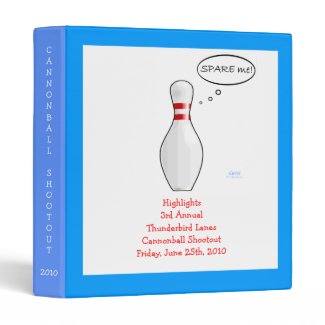 Customizable Funny Bowling Binder
ZAZZLE.COM
How cute is this binder!  The humorous drawing on the front has a pin thinking "Spare Me."  The words underneath the pin are fully customizable, as is the title on the spine.  There are a number of uses for this cute binder, including:
A scrapbook of a season's or tournament's highlights.
A record of a team's or your own personal progress over time.
A school notebook for an avid bowler.
It's available in   1″, 1.5″ and 2″ sizes.
---
Microfiber See Saw Ball Wipe
AMAZON.COM
Every bowler needs one of these, but not everyone has one.  If someone you know is without one, a see say ball wipe makes an appreciated gift.  From Brunswick, a top name in bowling, this gall wipe in in microfiber, and holds up to seven times its weight in lane oils and dirt.  Perfect to use for a quick ball cleaning before, during and after a game, it can also be used for an extra measure of protection when storing your ball in your bag, or even a locker.
A ball wipe is one of those practical gifts that a bowler will use every time they take they hit the lanes.
---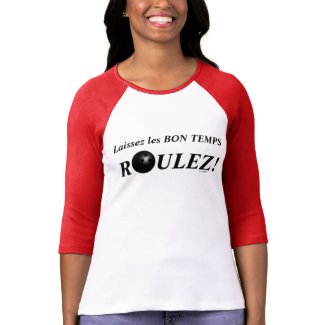 Funny Cajun Custom Bowling Team Shirt
ZAZZLE.COM
This funny Cajun bowling shirt is just too cute!  On the front:  "Laissez les BON TEMPS ROULEZ!"  Anyone who has ever been to Cajun country knows that means "Let the good times roll!"  A large shiny black bowling ball replaces the "O" in the word, "roulez."    On the back, you'll  customize it with the name of the team, and under that, that of the individual team member.
Available in a large number of men's, women's and kid's styles in addition to the one shown, you're sure to find something that's exactly right for your team.
---
Bowling Ball and Pins Cake Decoration Set
AMAZON.COM
It's party time!  Decorate that special occasion cake with pins and a ball.  Whether it's a child's birthday party at the local lanes, or an anniversary celebration for Grammy and Gramps who like to bowl, a special decoration will help to  make their day memorable.
If you're responsible for providing the cake, make it easy on yourself, and grab a sheet cake from your local bakery or store.  Then, arrange the little ball and pins just the way you want them, and have a happy celebration!
---
Personalized Bowler's Key Chain
ZAZZLE.COM
Need a fun little thank you gift, or even a Christmas "stocking stuffer," for someone who likes to bowl?  Here's  an item that's special, yet affordable. and useful, too.  Key chains are always useful, yet they're generally quite affordable.  And this one is special in two ways:
The pins and ball perfectly express the passion of a bowler
It's double special because it's personalized
Grab one today.  Or get one for each member of your team!
---