You feel anxious every time you see her. There is a funny feeling that you can't explain whenever you hear her name, see her on the corridor or when she smiles at you. Have you ever caught yourself smiling subconsciously? These are the signs of you having a crush on someone.
You can try breaking the ice with her with a small gift. I have a list of cute and sweet gifts that will make her feel special on Valentine's Day, Christmas or even her birthday! Next time, she will be the one to approach you to have a little chat!
Minecraft Baby Pig Plush
AMAZON.COM
Minecraft is probably one of the biggest gaming phenomenon of recent times. This is such an adorable gift for your crush especially if she loves Minecraft. Not only will she be surprised but Minecraft makes a good topic to break the ice.
This 7" plush toy is a replica of the cute pigs from Minecraft. Even if she doesn't have a liking for Minecraft, this plush still makes a great gift.
This bracelet watch is a great accessory for any type of event, both formal and informal. It is a good quality watch and has a stylish design. It will leave a lasting impression on her.
If you want her to notice you then this is the gift to make her remember you. Imagine how she will look wearing this stylish bracelet watch from you. This is a wonderful gift idea for a lovely lady.
Winged Heart Pendant
AMAZON.COM
Isn't this a lovely necklace? If I received this as a gift, I would truly appreciate it. The necklace with pendant is made from stainless steel and has a rose tinted plating that really adds to the beauty of this lovely necklace.
This gift is an elegant piece of jewelry that is also very affordable. May she will see the sweet side of you through this gift. This gift will leave an impression that will last. Perhaps the next time she sees you she will stop and say thanks!
Cloud B Twilight Constellation Night Light
AMAZON.COM
Do you think of her every night? With this gift, perhaps it will make her do the same every night. Be a part of her dreams as she sleeps. This night light is a sweet gift for her to enjoy. It features a full night sky projection on her room ceiling and walls. It creates a calm ambiance that helps getting a good night's sleep.
The projector has an auto off switch that shuts off after 45 minutes. This is a lovely gift and she will surely love this gift.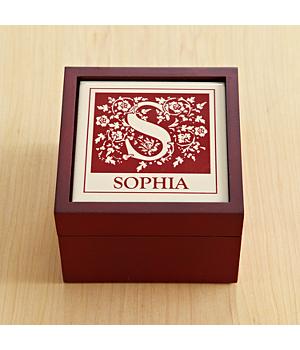 Initial Tile Box
PERSONALCREATIONS.COM
This is a personalized gift that is exclusively crafted for her. She will love this gift. The box makes a perfect place for storing her favorite jewelry, photos, and other things she cherishes.
This elegant box can be personalized with her name and initial. It is crafted from solid wood with a nice cherry finish making this tile box absolutely stunning. It has a hinged cover with a tile inset and black felt lining on the side and at the bottom. This personalized gift is perfect to impress her. This is your chance to make her notice you.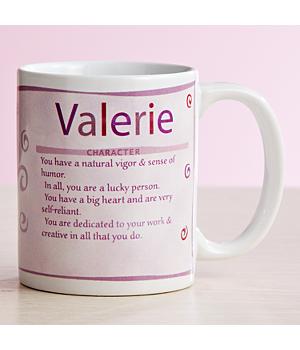 The Meaning of a Name Mugs
PERSONALCREATIONS.COM
This personalized mug is another great gift that subtly tells her you have her on your mind. It is personalized with her first name and its historical meaning and origin of the name. It also has some fun facts such as personality traits, characteristics, number, and animal associated with the name.
The mug is available in 11 or 15 oz sizes. 3 random colors are available for female name mugs.
Loving Angel Figurine
PERSONALCREATIONS.COM
The Loving Angel Figurine makes a very thoughtful gift. This figurine signifies a guardian angel who will always keep her safe from harm.
This exquisite angel figurine can be personalized by having her name added to the angel's gown making her know that you are always praying for her safety.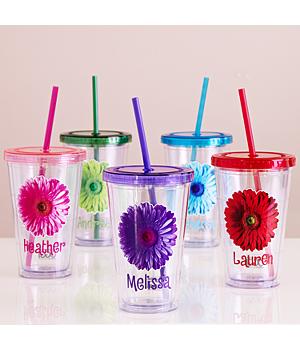 On the Go Flower Tumblers
PERSONALCREATIONS.COM
These are cute tumblers perfect for her. If she is always on-the-go, this cute tumbler will make sure she is well hydrated. It has feminine design that she will surely like. This will really leave a lasting impression of how thoughtful you are.
If you want her to remember you all the time then this gift idea will make your wish come true. Imagine how pretty her smile is once you give this gift to her. A cute, practical and personalized gift exclusively for her.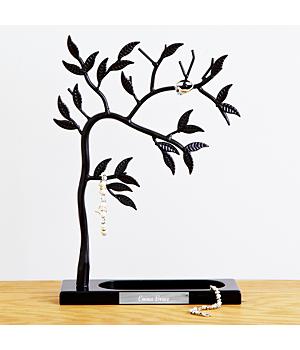 Jewelry Tree
PERSONALCREATIONS.COM
This gift is something special for her to remember you by. This beautiful piece of art can be a jewelry tree or a nice decorative piece in her room. She can place her accessories and jewelry on it or place it on her coffee table as a decoration.
Imagine how pleased she will be once she sees this gift. It is simple but stunning just like her beauty. She will remember you every time she sees this. It is even made special because this is a personalized gift. You can have her name or a special message engraved on it.
Photo Coin Purse
PERSONALCREATIONS.COM
This is nothing too fancy but I still find it very cheeky. It looks so simple. She will love its feminine and elegant design. She can place her spare change or her phone in it.
It has this cool design perfect for everyday use. Since this is a personalized gift item you can also have her photo printed on the coin purse. Make it exclusively hers. I am sure she will love this simple but very thoughtful gift.



She will surely love any of these gift ideas but what will truly impress her is your personality and not these material things but the gift will help break the ice. She will like you if you are kind, gentle and friendly.