When a lady likes pink flamingos, she really likes them.   She adores pink flamingo accessories, both for wearing and as pretty little touches to her home decor.   While those who aren't particularly enamored of these big beautiful birds may not completely understand her attraction to them, they inevitably come to accept it.  If the lady in question is an important part of their life, they may even learn to embrace it.  So, for female flamingo aficionados, and those who care for such a one,  here are five fabulous pink flamingo accessories for ladies.
---
Pink Flamingo Pendant Necklace in 14k Gold
AMAZON.COM
Hang a pretty pink flamingo pendant necklace around a lovely neck for a decidedly feminine look.  This one's in 14 karat yellow gold, and comes on an 18 inch chain.   The three deminsional charm is enameled in brilliant tropical pink, with a touch of green grass under the bird's feet.
If you're buying this piece as a gift for a special lady, you'll be glad to know it comes in a nice gift box, all tied up with a ribbon, and ready to present.
---
Pink Flamingo Trinket Box With Swarovski Crystals
AMAZON.COM
Good things do, indeed, come in small packages, like this little flamingo trinket box.  It  will be looking pink and pretty on a vanity or shelf.  Everyone loves Swarovski Crystals, and this exotic bird is generously adorned with them. Appearing for all the world like a mere decoration, he stands in a pool of water.  Yet, he opens up to reveal a place to keep that pendant necklace,  earrings, or other small treasures.
---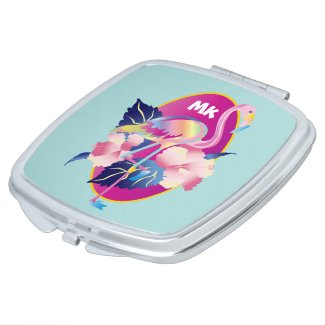 Tropical Pink Flamingo and Hibiscus Monogrammed Make Up Mirror
ZAZZLE.COM
Travel around town, or around the globe, with a friendly flamingo as your companion when you carry this monogrammed travel mirror. It's oh, so yours with your initial(s) on it, and oh, so tropical with a flamingo and hibiscus flower, too.  Be ready for that last minute touch-up to your lipstick without having to find a ladies' room.  You might also get a smile or two when your companions get a load of your special flamingo accessory!
---
Whimsical Pink Flamingo High Top Sneakers
ZAZZLE.COM
Get ready for fun in these cool and whimsical Pink Flamingo High Top Sneakers!  They're custom made, and unique as you are.  In stand-out pink and white on black, the flowers and flamingos are from an original illustration by Wind-up Sprout Design.  You won't find these at your local discount store!  The unique feature of these sneakers is that the top can be zipped off and changed out.
How cool are these flamingo pattern high tops?  WAY cool, for sure.
---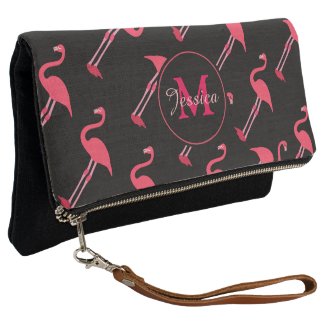 Flamingo Pattern Personalized Clutch
ZAZZLE.COM
This pink flamingo themed Belgian linen clutch won't ever be mistaken as belonging to anyone else.  With your first name in white over your last initial in pink, it's both monogrammed and personalized especially for you.  Add to that a virtual flock of your favorite tropical birds, and you'll enjoy carrying this for any morning brunch, afternoon tea, or a formal dinner in the evening.
Made by hand in the USA, the clutch has a leather wrist strap, and  zipper closure, as well as magnetic button fastener to keep it in place when you fold it over.
---
A lady who loves flamingos seems to never get enough of them!
I hope you've found some cool ideas on this page, or at least something to get you thinking about what kinds of things there are to choose from for a special occasion gift for a 'flamingo lady.'  When you key in on a theme that she's passionate about, even a small token is more meaningful.  It tells her you have put some real thought into it, and that means every bit as much as the item itself.