Baby boys are so adorable; most of the father's wanted to have a baby boy as their eldest. In some Asian countries, couples are in favor of having baby boy as their eldest child as part of their customs and traditions. No matter what the gender of a baby is, she or he is still a blessing from heaven. Here are some cute and lovely baby shower gifts perfect for baby boys. Feel free to shop around and enjoy!
Baby Aspen Five Little Monkeys Gift Set
AMAZON.COM
This gift set features cute gifts for little baby boys. It has a machine washable baby blanket, a soft 8-inch monkey plush toy, a cute and soft 5-inch banana-shaped rattle, solid wood door hanger with a "Shhh Baby's Sleeping" sign and a weaker keepsake basket with embroidered linen making this gift set looks so great. It is a wonderful set of baby gifts for a special baby boy.
Hudson Baby Gift Collection, 6 Piece
AMAZON.COM
Hudson Baby gift collection is a comfortable and lovely baby shower gift you can give an adorable baby boy. This gift set features 6-piece garment made from 100% soft cotton. This gift set comes with a body suit, tee top, pants, bib, and socks. All are machine washable and fits well to newborn babies and babies up to 3 months. A great gift for newborn baby boy.
Baby Gund My First Sports Bag
AMAZON.COM
Want to know if he is going to be in the NBA, NFL or RFL? Introduce sports to your little buddy even on an early age. This gift idea will help him be familiarized in different ball games. This gift idea features 4 soft plush balls such as football that has a squeaky sound, basketball that creates a rattle sound, soccer ball that boings and baseball that crinkles. Let him be familiarized with these types of sports even on an early age. All balls are stored in a cute and colorful sports bag perfect for little baby boys. This gift set is so cute and has a perfect size that fits little hands of adorable baby boys.
Baby Emporio Baby Boy Sneaker Socks
AMAZON.COM
Boys are always in style. Let your new baby boy show his groove with this cute little baby boy sneakers. It fits perfectly to his little feet. Perfect for babies for 0-9 months. These cute little baby boy sneakers are made from 80% cotton, 17% nylon and 3% spandex materials which are machine washable and don't shrink. Little baby boys will look adorable wearing these cute little socks. These baby boy sneakers socks come in a cute and colorful box just right for gift giving.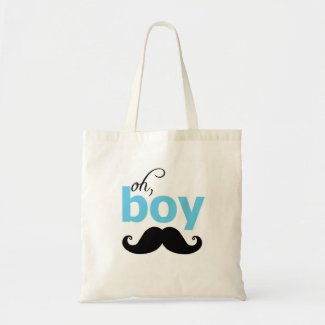 Blue Oh Boy Mustache Tote Bag
ZAZZLE.COM
A tote bay for cute little baby boy. This tote bag has a slim and fashionable design perfect for everyday use. Moms can be stylish and be proud of their baby boy with this gift idea. Tote bags are environmentally friendly and versatile. This is a nice gift idea for the new member of the family. This lovely and simple tote bag is made from 100% cotton with a sturdy handle. It has great quality, durable and most of all affordable. A nice choice of baby shower gift.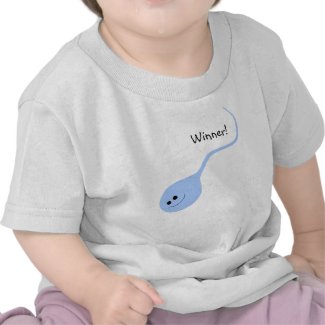 Winner Blue Baby T-shirt
ZAZZLE.COM
Before a baby is formed inside a mother's womb there is a great battle of survival that occurred. We live in a battle field of survival. Imagine how many male cells fought just to be with the only one female cell to be fertilized and this sperm is really tough to create an adorable baby boy. This shirt is a cute representation of this great battle that this new baby boy had overcome. He is indeed a winner. This shirt is made from 100% cotton fabric that can be customized. But no matter how much you customize this shirt this will still look adorable on your new baby boy.
NogginStik Baby Rattle
THINKGEEK.COM
A cool little rattle for a genius and adorable baby boy. NogginStik baby rattle is a rattle for smart babies. It has a silly face that lights up when the baby moves it. Its textured handle helps the baby have a strong and comfortable grip on it. In this way the baby is encourage to move his hands while watching the rattle's head lights up. This will help parents with their baby's development. This rattle is safe for babies because it is made from non-toxic and baby-safe plastic. Babies will surely love this cute and colorful toy.
Lil' Vampire Pacifier
THINKGEEK.COM
Vampires have the ability to hypnotize and put you under his control, just like cute little babies. We love staring at their cute and angelic faces. This gift idea is a funny gift for adorable little baby boys. Parents and adults will have fun watching their little baby suck looking like a cute little vampire. This doesn't just make babies look funny but it will also keep them quiet and occupied for a longer period. It is specifically made for babies' fragile little mouth. It has an Orthodontic nipple which is safe for their developing teeth. It is really a wonderful and affordable gift for a new born baby boy.
The Winkel Teether And Grasp Toy
THINKGEEK.COM
Babies grow up so fast, they are so small and fragile and after few months they are already crawling around, laughing out loud and developed a lot. Part of their development is teething. Babies feel irritated because of the burning feeling of their gums. They tend to bite their toys to scratch their itchy gums. This is where this gift idea comes in. It helps baby with their teething stage. Plastic making it look so attractive to babies. It is so easy to hold and fun to chew. Putting it inside the fridge is a very good idea because the cool sensation helps soothe their gums. Great choice of gift for baby showers.
Mozart Magical Cube
THINKGEEK.COM
Last gift item on our list but not the list is this colorful Mozart Magical cube. This musical cube helps develop baby's brain though music. It plays six different musical instruments and eight wonderful composition of Mozart who is a very talented musician. This toy will keep babies occupied and entertained with the music and sounds that it produces. Parents can do other chores while their baby is busy figuring out where the sound is coming from and how it creates the different sounds it creates. An educational gift idea is a perfect gift for babies.



All babies are special. It doesn't matter if it is a boy or a girl. They are all special and a gift for parents to take good care of. Baby boys are as important as baby girls. The most important gift that anyone can give a baby is their love and protection.