It is common to see cute gift items on a baby shower. Most of them are cuddly toys, soft baby blankets, unicorn or star designed baby suit and other adorable baby stuff.
What if you give something that is different? Well it is still something useful and safe for the baby, but what if you try giving a funny or gag baby shower gift idea. This will add humor to the party! Here are some funny gift ideas that are safe for the baby and helpful to the parents in taking care of their new baby. Have fun browsing!
Infant Care Troubleshooting Flowchart
AMAZON.COM
Honestly it is not easy to take care of babies; it is a task that takes time to master. This is a funny gift idea but truly a helpful stuff to help parents and caretakers look after their little ones. It is a gift idea that will save new parents from wondering how to troubleshoot their new toy! This gift idea is a 65-piece magnetic flowchart that will instruct new parents how to deal with their baby. It is their best tool that helps parents unfold the reason why their baby is crying. It is a fun game that educates parents how to be a parent. It is fun but educational too. This will be very handy to new parents.
Diaper Loading, Please Wait – Bodysuit
AMAZON.COM
It is better for parents to be warned early than not! This one-piece body suit has a funny graphics that says: Diaper Loading, Please Wait. It is a simple warning to parents that they need to be ready for their baby's diaper. Parents doesn't get all the nice stuff of having a baby so better yet this gift idea will add humor to this very difficult task. This funny gift idea is so comfortable for the baby because it is made of 100% cotton and it has snaps that make easy for the parents to put on and take off it of the baby. It is indeed a funny baby shower gift that gets attention.
New Parent Survival Kit
AMAZON.COM
The new parents will really have a good laugh at this gift idea, but it will make them think as well! This funny baby shower gift is best for new parents. It is really a nice gag for parents soon to have their little baby. Somehow this is also a useful gift idea it has baby essentials and a little added twist. This will help the parents, especially new fathers in changing their baby's diaper. A gear that new parents need in order to survive a war in changing their baby's diaper, it is something that will help them win their battle.
Watermelon Smuggler – Maternity Tank Top
AMAZON.COM
A gift idea that will keep your pregnant friend or family member cool and smiling. This tank top has a funny graphics saying: Watermelon Smuggler. Really! A pregnant woman looks like she swallowed a whole watermelon. This gift idea is a nice gag gift for expectant mothers. It will also be something they can keep and remind them of the pregnant days. It is not easy to become pregnant and to be a pregnant woman. To conceive a child is something mothers risk their lives for. Adding a little humor on your friend's pregnancy will lighten the situation a bit. This will calm her down because for sure she is nervous to deliver her baby. Be there and make her feel secured and loved.
The "Other" Book of Baby Names
AMAZON.COM
Yeah, I know some parents are so creative giving their baby the weirdest names on Earth. This gift idea will make sure your new parent friends or family member will not be too creative giving their baby a name that will make their child hate them. Save them from committing their biggest mistake in their life. This humorous book has a list of most outrageous baby names in the US. Parents-to-be and even their family and friends will be laughing so hard with this sensible book of names. Great baby shower gift, funny and definitely a useful guide for parents giving their baby a name.
The Man Behind the Bump T-Shirt
AMAZON.COM
It takes two to Tango; there wouldn't be a baby shower celebration without the help of this brave man. He conquered his fear and welcomed the graveyard life and challenges of being a dad! This funny shirt is a nice baby gift for new fathers to help them embrace their new title. Becoming a dad is a big stuff, something he can never escape. Help him conquer his fears and let him face his new life with pride and a smile. Add a little humor to your friend or family member soon to be a father. They are surely nervous but make him see the fun side of it too. This shirt is made from 100% pre-shrunk cotton. It has a comfortable fit and available in different colors.
Prank Pack Crib Dribbler
AMAZON.COM
You and your parents-to-be friend or family member will be surprised with this gag gift box. You can place your real gift in this gag gift box. This gift box appears to have a weird item inside it. They will surely be stunned to see what you want their baby to have. just place your real gift inside it and see how they will laugh to see what is inside. Everybody will be laughing at this gift box. Wait for their reaction and you and the other guest will enjoy it. All of the sides of this box have graphics and joke that will humor the parents and everybody in the party!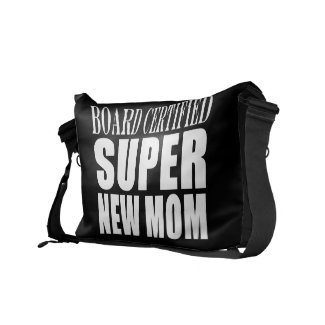 Super New Mom Bag
ZAZZLE.COM
It is literally difficult to become a mother nowadays you even have to be certified to be one! A funny gift idea for expectant moms and first time mothers! This is a wonderful and funny shower gift idea that will make the mom-to-be happy. Funny baby shower gifts are great gift ideas because it somehow lessens their anxiety of giving birth. Your friend or family member that will be having their new baby soon is pretty excited and nervous to see their precious little angel. Celebrate this wonderful event of their life and being there is the best shower gift you can give her.
The Baby Owner's Manual
THINKGEEK.COM
This baby shower gift is the most helpful and useful gift you can give the new parents. This is an operating instruction for new humans that will give their owners no hassle in keeping them function well without destroying anything. This manual make the baby owner capable of maintain peace and order in their house while taking good care of their new baby. It will give them great tactics in keeping their new baby safe and sound most of the time (if possible.) This gift idea will surely make everybody laugh.
Vampire Pacifier
THINKGEEK.COM
The new parents will be very excited to see this on their little darling. This pacifier will make their tot look like a vampire. This is a funny gift idea that will make everybody laugh. A hilarious look on a cute little angel is a nice gag. Don't worry this pacifier is safe for babies and their human parents. It has orthodontic nipple and made from non-toxic and BPA free materials. This is really a fun and cool baby shower gift.



These funny gifts will add fun and color to the party. This will also lessen the nervousness of the new parents or the expectant mom to have their new baby. Fun and useful baby shower gifts are great stuff to give. Celebrate this wonderful moment of your friends' or family member's life. Extend your congratulations and best wishes to the new parents with your funny baby shower gift.