Marriage is a book of which the first chapter is written in poetry and the remaining chapters written in prose. Wedding day is one of the best and yet unforgettable experiences in a lifetime.  Everything seems to be perfect from this day forward but the responsibility that comes with this sacred covenant is really a tough nut to crack.  Nobody said that it's all easy but most say that it's all worth it. 
If you are about to attend a wedding and is having a hard time figuring out on what kind of wedding present to give, you are in the right place and we have some fun gift ideas for you.  Standard wedding gifts may be too mainstream nowadays, if you know the couple too well and you know that they would prefer something light, funny and useful to them, these are hints that you can gift the couple something with a twist of humor to keep things light and yet figuratively saying your congratulations for tying the knot. 
Before thinking of what to give, you first need to set the realistic amount that you could spend for the wedding gift.  You need not to be broke or spend most of your bank account just for a single present especially if you are going to attend more weddings this year.  Check out the funny gift ideas we have prepared for you below.
The Newlywed's Instruction Manual
AMAZON.COM
Marriage is indeed a new adventure to take for the newlyweds. It is a serious undertaking and everyone seem to give the couple unsolicited advices that are quite overwhelming for the both of them. Let's give them a break and make them see how their marriage will go, it really depends on how they would take it after all, isn't it? This funny guide or instruction manual for newlywed gives a cheeky outlook on married life.
And in case that you don't know how other married couples or just don't know what sorts of information to seek out, then a book like this one is a great handy resource. The topics that it discusses are some of the most common one that married couples deal with in the first year or two of marriage like dealing with rings, buying a house, dealing with in-laws, getting used to living together, and two sets of friends and relatives, weaving romance into the busy schedule and so on. It's also ideal for people who are not fond of reading books because it has pictures that well present the ideas on each topic.
On the plus side, each topic is presented in a humorous manner so the readers could take things easily and even make them laugh at the same time. This book is ideal for newlyweds who are clueless of what kind of life they are embarking on from their wedding day forward.
Bride & Groom Challenge
AMAZON.COM
How much do they know each other? This game would solve your question. Let them have fun and know each other in a whole new perspective. This is a great and fun way for the newlywed to interact. Getting to know you more stage will never be a dull moment with the help of an additional tongue in cheek contract which contains playful and entertaining prize ideas like a back massage, breakfast in bed and more for the winner.
The winner is the one who answers most if not all the questions given correctly. This book is made by Alex Lluch who is a popular author of 200 books of various topics which includes business, weight loss, health, weddings and more. He wrote this in a comprehensible way that made him a one of the favorite authors of readers worldwide. It is an ideal gift for the couple who is fond of learning new things especially about each other. Give them a blast as they venture on the world of discovery in their partner's perspective.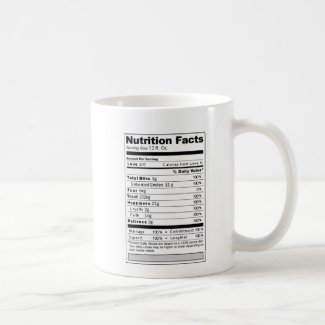 Wedding Funny Nutrition Label Coffee Mug
ZAZZLE.COM
To keep a married life rocking and rolling for quite some time, there should be steps or things to do aside from just wishing that it would work. This mug is designed with nutrition facts of a married life. You can gift the couple one mug each so they could both remember such factors to keep their love burning.
This coffee mug comes with a lid that prevents spilling and can be brought in the office or while in the car. It can be customized the way you want it to be presented. This travel mug has a high quality print that looks sharp and presentable. This is an ideal gift for the couples who are both coffee lovers and are always on the go. Remind them each day with the nutrition facts of marriage as they both start their day with a caffeine fix.
Gift His/Her Money Piggy Bank
AMAZON.COM
Money matters are one of the tough areas if not the hardest part to talk about and to deal with especially in married life. Give the couple a light presentation of how most couples see where their money goes as they entered this phase in their lives. This will certainly bring a smile on the couple's faces and would definitely be a perfect and funny decoration in the couple's abode that would most likely be a conversation starter in a party or any gathering. It also includes three token coins with inscriptions about love.
For good luck and additional design to the couple's home, you can advise them not to drop these tokens inside. It is an ideal gift for couples who are thrifty and just likes to plan their future ahead. A little joke on the side wouldn't hurt.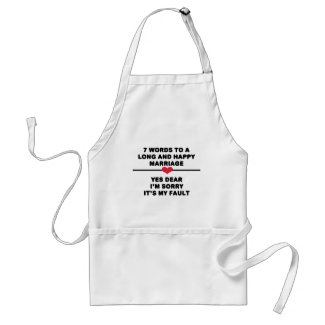 7 Words To A Long Marriage Apron
ZAZZLE.COM
It's really quite difficult to keep the marriage intact for a long time. For sure there would be struggles, sometimes there could be storms but there's always a way to smoothen things out. This funny apron which is suitable for the couple who love to cook gives its two cents on marriage, as stated there are seven words to a long marriage and these are: Yes dear I'm sorry it's my fault.
Aside from the funny design on this apron, it is also equipped with three spacious pockets for all your holding needs. It is made from 36/65 cotton with polyester twill blend. This apron is machine washable so tidying it up would not be a hard thing to deal with. Plus it is wider that is good to cover the clothes well of the chef wanna be as one's cooking prowess is shown.
Annoying Running Couple Shirt
ZAZZLE.COM
If your favorite newlywed loves to run too much then this would be the funny gift for them. The couple tee says it all. It would be fun for them to wear these couple tees as they run together for fun or even during competitions. Annoying as it may be but as they say it, they just need to run like all the time. The couple can work out while wearing this too. It's a very comfortable shirt with moisture wicking and contains anti microbial finish per shirt. This is an ideal gift for the very active and fitness enthusiast couple.
As the cover suggests, sometimes it's really quite difficult to figure out the perfect gift for the couple. If you are afraid to pick out something that you would be hated for later on then the gift card is the best gift that you could give. Let the newlywed choose any item they like. The gift card comes in various designs to choose from. If you also want to give an instant gift, then this is the best gift idea for you.
The gift card is posted via email. The amount will be seen only by the recipient. It is also ideal for gifters who are buying on the last minute as in right on the very wedding day. Convenient, funny, likeable and an easy to use gift doesn't come in handy in most gifts after all.


Adding humor to a wedding gift may be tricky because sometimes your humor is not taken the way you wanted it to be. Just be cautious as you present your message and choose a gift that would showcase your humor without being sarcastic or offensive. Wedding is a celebration after all and being funny may also be a part of this lovely day especially if the newlyweds are huge fans of jokes, laughter and pick up lines.