A beauty queen once quoted that the essence of a woman is by being a mother.  To bear a child is such a blessed feeling which fulfills a woman holistically.  A new life forming inside her womb brings enormous joy and tons of hope.  Seeing life in a new perspective is another upside of being a mom.  Although with this great joy follows great responsibilities, sleepless nights and drained energy.  This coming Mother's Day, new moms get to celebrate this very special day for the first time.  Make their celebration of motherhood be a memorable and enjoyable one by giving the new moms some wonderful gifts that would make them feel loved and appreciated.  We have handpicked the best gift ideas for the new moms, check out the items below.
365 Things Every New Mom Should Know
AMAZON.COM
Motherhood is a new chapter in a woman's life. Life maybe difficult at times but being responsible for the new life you have created is another thing. You may ran out of ideas and feel like your mind is about to explode. Support system is very important for the new moms but if the relatives are living on a distance then you should reclaim yourself and get some self-help. This book is very informative and very helpful for the new moms. It combines information from various sources with the inclusion of brief devotionals and prayers followed by the daily tips and activities for the baby. This book will serve as the new mom's life coach that could guide her in her daily struggles. Help the new mom gain her inner strength and fill them up with encouraging words and prayers to help her experience parenthood lighter.
The New Mom's Survival Guide
AMAZON.COM
Sometimes, if we are confronted with a lot of new things or ventures in life we tend to be clueless and survival seem so crucial and hard to imagine. Being a new mom is not just a new milestone in life, it's a life changing occurrence and everything seems to change abruptly. It may be too overwhelming for the new mom but it could be bearable with this New Mom's Survival Guide. It contains survival tips in the motherhood jungle to help the new mom reclaim even her old life back. Having a baby is difficult but it's all worth it. For the first timer mom, this book would be instrumental to combat their post pregnancy issues and give ultimate solutions. The author of this book is a doctor who is also a medical advisor to the Society of Women's Health Research. Having this book at hand is like having a doctor to ask at your side every time you need help the most. This would be a great gift idea for the new mom who has several questions in mind and is almost losing grip because of her new role.
Being glamorous maybe the last thing a new mom would think of. But being Mom is a celebration and let us help our new mom see how beautiful her new life is. Showcase her new role in this world with a New Mom Necklace. This personalized necklace is made from sterling silver with Swarovski crystal birthstone or a white pearl. You can customize this necklace by including the baby's birth date and name stamped on the pendant. It even comes on an elegant gift box which adds beauty to the presentation. The first time mom can boast her new duty as it beautifully hangs on her neck as she wears it in any outfit she prefers. A perfect gift idea for mom's who love accessories especially necklaces.
Inspiration Quote Bangle
REDENVELOPE.COM
Simple "thank you", "you inspire me" makes a difference especially for the first timer mom. Such simple words of appreciation invigorate the soul and cheer the poor spirit. If she likes to fancy up a bit with accessories, you can give her a polished silver plate bangle with a classic design that will never be forgotten by time. Aside from the elegant facet of this bangle, you can input a secret message inside. Words that you think would inspire and captivate her soul. This jewelry also includes a birthstone of the wearer to make it personalized and designed especially for her. It can be easily worn and put off because of the included hinge. It may look simple at first sight but totally rocks as a whole. This is a great gift idea for the simple yet elegant new mommy of the year.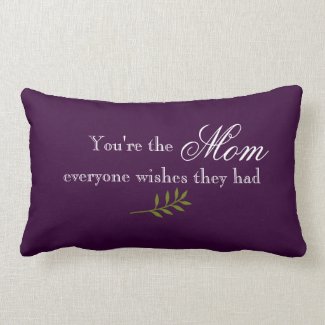 Mom Quote Throw Pillow
ZAZZLE.COM
Being a new mom means you'll get sleepless nights as the baby tries transitions into sleeping patterns. If only there's a very comfortable pillow that she could use any time she can squeeze some snooze. This throw pillow is not only ultra soft which makes sleeping easier but it also has some nice words that would melt the heart of our first timer Mom. A first timer mom would think that she's not doing her best that much but we all know that she really does a good job just by even trying. This throw pillow is a nice complement to the couch or even on the bed. It is made from one hundred percent grade A cotton which makes it very soft to touch and very comfortable to lie onto. This is perfect for the new moms who love to nap whenever she gets the time.
Hell's Kitchen Dessert Tour
CLOUD9LIVING.COM
Even moms love desserts! Give our new mom the gift of indulging her sweet tooth even just for a day. Give her a break and let her indulge with the scrumptious desserts through Hell's Kitchen. A fun and delicious tour that will give an insight to the history and local lore of this iconic neighborhood with at least six stops where in you'll get to enjoy sample sweets from traditional to the best and finest delicacies of Hell's Kitchen. She can even bring her new baby along if she wants too since this is a family fair and baby strollers can be accommodated on the tour.
Swedish Massage
CLOUD9LIVING.COM
The tiresome duty of being a parent strips off her energy and looking after her body may be tossed on the side. Give a gift of rejuvenation on Mother's Day with the gift of a Swedish Massage. Let the first time Mom enjoy few minutes of relaxation and recuperation that will certainly give her healing and transformation. There are three options to choose from: uplifting, detoxifying or relaxing blend. The Swedish massage is a combination of rhythmic movements and potent herbs and aroma that will enhance, heal and recuperate the weary body of our newbie mommy. The spa therapy is done in a peaceful and relaxing environment that will give our new mom some quality "me" time.


Taking a new ride in life maybe devastating at first but with the help of loved ones, a new mom can get through all these life obstacles especially if there are terrific friends like you who celebrate life with her. Having a baby is a bountiful blessing from above that is meant to be enjoyed and celebrated by all the wonderful creatures around the world whose name is Mom. Even a newbie gets to celebrate it and making her feel loved on this special day is liberating and acceptance of this new challenge gets easier. Giving her a gift is one thing but ensuring that your recipient would love it is fulfilling. Happy Mother's Day to the Newbies!