Choosing gifts for water lovers isn't as tough a task as a someone who doesn't share their passion might imagine.  People who just love the water all have one thing in common:  They all love to be in, on, around, and maybe even under it whenever possible.  Their affinity takes many forms:  swimming, surfing, boating, scuba diving, snorkeling, jet skiing, kiteboarding, enjoying a beautiful seascape, or just lolling at the beach.
So, when you think of your water loving friend or family member, just remember what it is about that substance that covers a majority of the earth's surface that turns them on.  Let that be a guide to your gift selection.  It might be something they can use on their next aqua adventure.  If expertly choosing watersports equipment is not exactly in your wheelhouse, there are other options for you.  Think jewelry, apparel, or home decor items with a theme that speaks to their interest.
On this page, you'll find a variety of ideas for gifts for water lovers to help you zero in on that special something that will make a real splash with them.
---
Watersport Sunglasses for Kiteboarding Surfing Jet Skiing Boating Windsurfing
AMAZON.COM
Anyone who enjoys the thrill of  zipping along on the surface of the water or riding the waves on a board will appreciate a quality pair of purpose-made watersports sunglasses.
The right ones will wrap around the face, have polarized lenses, feature a secure head strap, and will float.  This pair fits the bill.  In addition, they even have a breakaway neck leash.  Many a pair of sunglasses without a leash have been lost in the waves when the surfer wiped out or the kiteboarder got dunked!
---
Sterling Silver and Opal Ocean Wave Pendant
AMAZON.COM
For the seafarer, surfer, swimmer, or anyone who appreciates the beauty and majesty of the ocean, here's pure water-love.  It comes in the form of a wave crafted of .925 Sterling Silver, inlaid with synthetic opal in colors of the sea.
To add extra sheen and guard against tarnish, it's plated with precious rhodium.  This ocean pendant comes on an 18″ box chain (also rhodium plated.)
This Ocean Wave Pendant lets the wearer take a sense of the sea along with them, even when they travel inland.
---
ProDive Dry Top Snorkel Set with Anti-Fog Lens and Waterproof Gear Bag
AMAZON.COM
For someone who needs their own snorkel gear, this is a good, durable set with the features that snorkelers appreciate.   Scuba boat excursions are increasingly popular, not only on cruises, but in seaside communities.  Yes, the tour operator provides gear, but do you really want to put a the same snorkel in your mouth that countless others have used?  (Yes, they are sanitized between uses, but . . .)  Using their fins shouldn't be problematic, but having your own mask and snorkel is a real comfort.  And, it's nice to have on hand for when you're ready to go snorkeling with a buddy.
---
Swimmers Smart Watch Fitness Tracker Bracelet
AMAZON.COM
They say swimming is one of the most perfect forms of exercise, and most swimmers would certainly agree.  Here's a smart bracelet made with them in mind.  Not only does it have the usual functions (time, heart rate, pedometer, activity tracker, alarm and alerts, etc.) but it also tracks your swimming activity!  It even recognizes the four common swim strokes:  Freestyle, backstroke, breaststroke, and butterfly.  Naturally, this smart watch is waterproof.
The screen uses touch technology, there's a downloadable app, and it's compatible with popular smartphones and tablets.   So cool for in the pool!
---
Labadie Seascape Canvas Print
ZAZZLE.COM
For enjoying a look at the sea while in the house, all that's needed is a pretty piece of seascape artwork to hang on the wall.  This view of ocean waves breaking against the rock strewn northern coastline of Hispaniola is a gallery quality stretched canvas print from a photograph.
I have a copy of this same print on my dining room wall, and it's even been mistaken for a painting on a couple of occasions.  That tells you something about the quality of the product.
---
Geckobrands Lightweight Waterproof Backpack
AMAZON.COM
Sometimes going to the beach or lake, especially for boating or active endeavours includes hauling along a few things.  But, there's nothing worse than having to worry about keeping those essentials safe and dry.  Dry bags aren't always easy to lug around.  Nor do they always provide enough space for everything.  That's why a waterproof backpack can be handy.  It closes up like a dry bag, but is carried like a backpack. It also has two pockets for organizing, plus a pair of D rings for attaching things you really need to keep at the ready.
The lightweight waterproof backpack comes in your choice of black or bright blue.
---
Surfing Design all over print Tank Top
ZAZZLE.COM
For some, surfing is not just a hobby, it's a way of life.  A gift for a surfer is always the perfect one if it speaks plainly and loudly to that way of life.  This one does.  The all over print tank top is highlighted by the silhouette of a dude catching a wave.   It's made of special moisture-wicking material, and that's an important feature.
On the back is the word "surfing," but the designer has thoughtfully make that a customizable item.  Just by replacing that word with one you prefer (the recipient's first name, perhaps?) you can make this a personalized gift that will be doubly appreciated.
---
Sun Guard Laundry Treatment UV Protectant
AMAZON.COM
What?  Give a laundry additive as a gift?  It may sound crazy, but YES!  Folks who spend a lot of time at at the beach or on the sea or lake necessarily also get bombarded by the sun's rays.  Sun guard protective clothing is useful, but a whole wardrobe of it can be pricey.  Here's the solution.  Adding this powder to the wash (along with regular detergent) turns a whole load of laundry into sun protective clothing.  And, garments need not be treated with every washing.  It lasts for up to twenty washings.
Anyone who loves to be out in the waves, but burns easily,  or has a sun allergy, will certainly think you for finding this for them.  It's by Rit Dye, so you know it's from a company with a time honored reputation to uphold.
---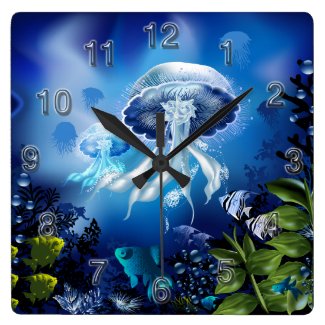 Jellyfish Underwater 6A Wall Clock
ZAZZLE.COM
Many who love the beauty of the sea are also fascinated with the wonder that lies underneath it.   Snorkelers and divers continually marvel at what they see there – from shipwrecks to colorful fish and amazing corals.
They'll appreciate hanging this battery operated sea life clock on their wall… it's a beautifully artistic representation of se vegetation, tropical fish, and jellies.  For best effect (in my humble opinion) choose the option for gray clock hands, rather than the black ones.
---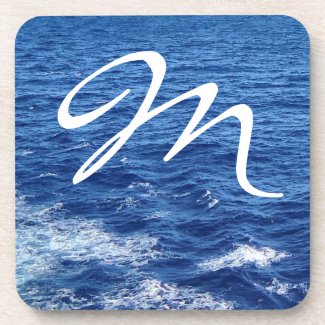 See the Sea Monogrammed Coasters
ZAZZLE.COM
For a special ocean themed hostess or thank you gift, or that special little something for newlyweds, try a set of six monogrammed See the Sea Coasters.   Just the ticket for casual entertaining, these high gloss hard plastic coasters, with cork backing, will keep those nasty rings off the furniture in style.  Guests will enjoy setting their beverages on this little taste of the sea with a real personalized touch.
Over a close up view of the waters of the Atlantic Ocean, your choice of a monogram initial floats in graceful white script.