What do you get for the Mom who wants nothing on Mother's Day?  My mom is the typical person that when asked what she likes she would say nothing… even worse, she would say, "world peace" or something like "only the love in your heart".  Sometimes, I find it difficult to pick stuff for her because I have no idea if she'll genuinely like it.  If you suffer the same dilemma, you need to check out the list we have prepared for you.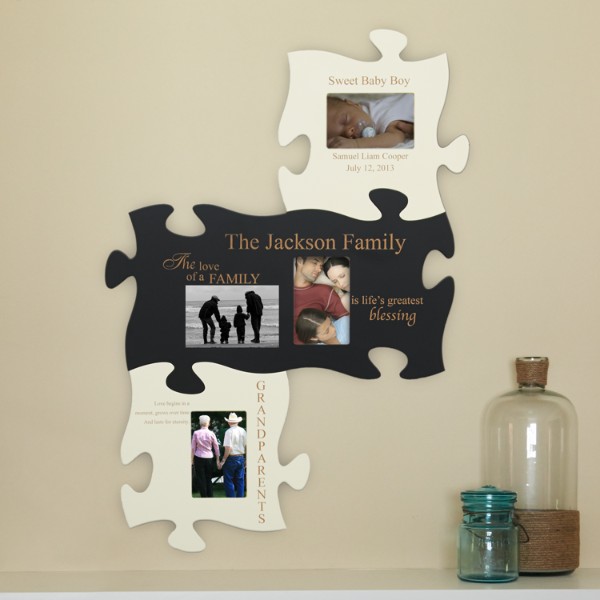 Puzzle of Life
PERSONALCREATIONS.COM
If Mom says that she wants nothing on Mother's Day, that may mean some other things. It's either she is not in the mood when you asked the question or maybe she just can't figure out what she really likes. Give her a present that would be a worthy keepsake through the years. The Puzzle of Life is a darling gift that will definitely bring happiness to Mom especially if you combine it with photos of moments that she truly treasure.
Each piece of the puzzle represents a milestone in her life. Personalize the gift with the important events of Mom's life will make this a meaningful gift for her. Life is filled with wonderful memories and to make a keepsake out of these treasured memories is like showcasing her story.
You can either gift an individual piece or put them together to form a web of memories and make your own masterpiece. Puzzles are of different designs such as wood veneer, painted, puzzle of marriage and Mr. and Mrs. You may also mix and match the colors of the puzzle piece to your preference.
Custom Throw Blanket
PERSONALCREATIONS.COM
The family is a great source of Mom's joys. Her life revolve around her family and without them she may feel sad. If most family members are living far away from her due to reasons like work or school, then this gift will remind Mom of her absent family members and memories of good times together.
Photos are boring. Why not transform a family photo to a woven throw? This custom throw is a great gift idea for Moms who miss her family bonding and togetherness. It is like having the entire family on her couch.
Keeping Mom's memories intact and close to her heart is what this Photo Necklace is all about. Give Mom a memorable gift on Mother's Day by gifting her something that she will greatly appreciate. A family photo or her favorite words of inspiration can be kept close to her at all times with this necklace.
The necklace has an 18 inches long silver platen chain and finished with a UV resistant waterproof coating that protects the necklace. Mom can wear this necklace with any outfit she prefers. She can wear it with both casual or formal wear too.
Unicorn Plush Bouquet
THINKGEEK.COM
If Mom doesn't like flowers or if she's allergic to pollen then the next best thing to give her is this Plush Bouquet. It's like keeping the mushy and cute things together wrapped in a bouquet. Plus, real flowers may wilt and wither in time but the plush's cuteness never will.
Each plush is attached to a stem that can be detached and about is 3.5 by 5 inches. This is a colorful and fun way to present Mom a bouquet.
Murder Mystery Dinner Show
CLOUD9LIVING.COM
Solving mysteries is Mom's favorite past time. She loves Sherlock Holmes, Hercule Poirot and the like. If that sounds like your mom, there's a new gig that Mom will enjoy on Mother's Day. Treat Mom to a Murder Mystery Dinner Show to feed her passion for solving crimes and mysteries in a funny and entertaining manner. Plus there will be a scrumptious dinner too.
It is a great for Mom to loosen up a bit and relax on her special day. There will also be a prize package for the Top Sleuth who comes closest to solving the crime. I surely hope that Mom wins!
Massage & Float
CLOUD9LIVING.COM
She is always busy running around and doing chores. Mom is always on the go and never seems to get tired but we all know the truth. Despite her weariness, Mom hides it with a smile. On Mother's Day, treat Mom to a relaxing massage and let her mind float away.
She needs to de-stress from all of life's stresses and let her muscles loosen up and be relaxed. This amazingly relaxing experience will definitely blow Mom's mind off. This gift is ideal for Moms who are workaholics and for those who badly needs some R and R.
Private Hot Air Balloon Ride
CLOUD9LIVING.COM
If you want to give Mom a blast on Mother's Day, start by giving her a memorable experience that she will cherish for a lifetime. Give mom a wonderful experience by going with her on a Hot Air Balloon Ride.
Embrace the beautiful scenery and let her hair be blown by the strong wind. The feeling of floating in the sky will simply be relaxing and amazing. Create a stronger bond with Mom after this three hour experience. You can end the charming experience with a toast and by munching on some pastries too. Beautiful scenery and quality time with Mom plus a memorable hot air balloon ride will give her a one of a kind Mother's Day.


Mom does everything but asks for nothing in return. So on Mother's Day, give her your very best that you can and show her that she matters. Any gift will do as long as it's from the bottom of your heart. Show her how much you care about her and how much she means to you. Celebrate and pay tribute to Mom on Mother's Day and every day.