Mother's Day is a celebration of motherhood and this is the best time to give back to the best heroine of all time. It's not only for the mothers who gave birth literally but is also for all the mother figures out there. Many people give out cards, flowers, candies and gifts. Gifts maybe too generic sometimes and a personal touch is badly needed. A personalized gift makes the ordinary gift extra special and adds importance and great value to the recipient. If you prefer to give Mom a personalized Mother's Day gift but you are running out of ideas on what to give her, you should check out the items below to help you decide.
The Green Thumb Mom
If Mom loves to exercise her green thumb often then it is best to give her personalized materials to make her garden and gardening experience more enjoyable. Showcase your enormous love for her through the following gifts below.
Heart Stepping Stone
PERSONALCREATIONS.COM
Make Mom's garden pathway personalized by imprinting you and your siblings' names on each heart step along with your message that you guys love her. This will definitely make Mom smile and fill her heart with love. The large round stone measures twelve inches with a heart cut out. You can either put "I" or "We" or add any title up to nine characters. Each smaller heart stones measures six and three fourths in height and in width and you can put any name for up to nine characters too. The stones are made from durable resin that could with stand long periods of time for years of enjoyment.
Garden is Filled with Love Metal Sign
PERSONALCREATIONS.COM
Mom's garden is like her personal sanctuary. She is an avid gardener because aside from exercising her green thumb she loves the feeling of fulfillment that she achieves as she grows plants and vegetables in this garden. Personalize Mom's garden even more by putting a Garden Sign to let her work shine more than ever. This garden sign is suitable for both indoor and outdoor use. You can personalize it with any title for up to 12 characters with colors to choose from.
Mosaic Flower Pot
PERSONALCREATIONS.COM
Give Mom an exquisite flower pot to add more colors and beauty to her greenhouse. You can even laser engrave her name on it or add some statement that you prefer for up to twelve characters per line. Who said that pots should all be brown and ugly when you can make her plants even prettier by housing them on this Mosaic Flower Pot.
The Chef Mom
Mom prefers to cook and make scrumptious meals and desserts all the time. Aside from helping you gain those extra pounds, she can also turn a bad day around just by serving you her heartwarming meals. To appreciate her cooking prowess more especially on Mother's Day, why not give her some items that she could use with a twist of personalization to make it more special.
"Reasons I Love" Apron
PERSONALCREATIONS.COM
Our mommies love to cook not because she always feels like doing it but because of a reason or two. And most of the time it's because of you! She always wants to make us feel good so now is the time to show her that we also love her so dearly and we aim to please her on Mother's Day. Cooking is sweeter by proudly showing who the ones you love to cook for are. This apron is extra ordinary because it bears Mom's statement along with the silly heads tagged with their names on top.
Lasagna Dish
PERSONALCREATIONS.COM
If Mom loves to make lasagna and is fond of sharing her delicious dish to friends and relatives then the perfect gift for her is a personalized lasagna dish. This stoneware lasagna dish is versatile just like mom because it can go to the oven, microwave, table top and even to the dishwasher without any fuzz. You can personalize it by adding Mom's name on it or a line to make her smile for up to 25 characters.
Bella Cicina Doormat
PERSONALCREATIONS.COM
Since Mom is the queen of the kitchen and of the entire house perhaps, seeing her name even from the doorway would make sense after all. This Bella Cucina Doormat will make the guests feel even more invited. Aside from gracing Mom's kitchen workspace with her personalized doormat, this also enhances the beauty of the kitchen floor with warmth and charm of old Italy.
The Super Mom
Some Moms are stay at home but some can balance work and home duties at the same time just like juggling multiple balls in a circus. For our Super Mom who can bring together family while shouldering a lot of responsibilities, you can give her some items that can make her look even more glamorous or things that she can use at work or in any way she prefers.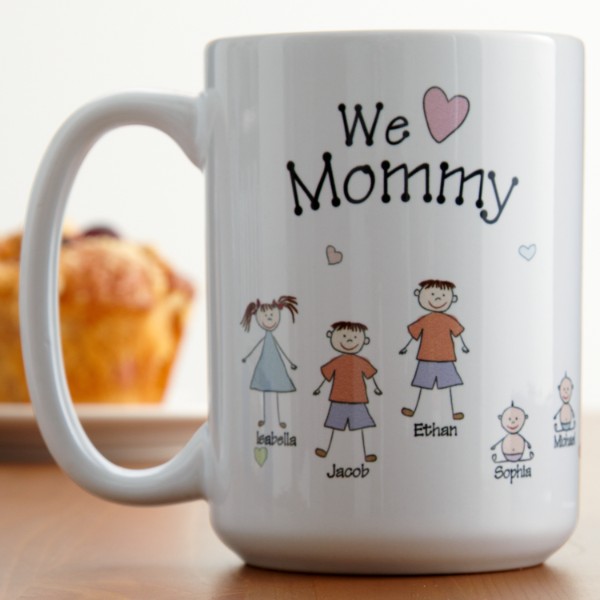 Tender Heart Character Mug
PERSONALCREATIONS.COM
As Mom get her caffeine fix, make her remember you as you proudly tell the world that the whole family loves her. This ceramic mug aside from being charming and full of life because of the lovely characters on it along with the names that could be added for up to 15 characters, is also microwave and dishwasher safe which makes it easier for Mom to use and clean.
Heart Character Sweatshirt
PERSONALCREATIONS.COM
If you want Mommy to wear something that would tell her how she is loved by the whole family then this would be the perfect gift for her on Mother's Day. This Heart Character T-Shirt and Sweatshirt is so soft because it's made from pure cotton. You can personalize this shirt by putting the characters on your family along with your names and you can even add your pet to the whole family caricature. The names to be included can be up to 15 characters long. You can even choose the ethnicity and hair color of your character design. For sure Mom's heart would be filled with joy as she sees this cute and personalized shirt.
Photo Charm Bracelet
PERSONALCREATIONS.COM
Make mom show off your gorgeous faces on this elegant and one of a kind charm bracelet. You will make Mom feel that you are with her anywhere she goes as she carries your photos along with her in this wonderful bling.
If Mom has plenty of jewelries and blings to keep, you can give her a Glass Jewelry Box for her to store all her precious keepsakes intact. You can even engrave her name on the top lid to make it more special and made just for her.
You can add some beauty to Mom's desk at work by putting a beautiful frame of you and Mom along with a heartwarming poem on the side. Choose your best photo together, maybe the one that you took from your last family getaway that Mom totally enjoyed. So that she can retrace the wonderful memories you have made from that very dear photo you just sent her.


Moms play a very vital role in the family. She can take care of the whole family, has a big heart to accept and love us unconditionally and brings light to the household. Without her, the house would feel shaky and different. On Mother's Day, let's show her how much we love her and tell her how we appreciate everything she has done for us. Remember, we are nothing without her. Appreciate and thank her while you still can.
Thank you to all the Moms and Moms at heart in the whole wide world!