When trying to find gifts with a distinct masculine flavor, why not think nautical!  Give your sea-loving guy a piece of fabulous nautical jewelry for his birthday, an anniversary, Christmas, or Father's Day.  Of course, you don't have to wait until one of those special occasions that's pre-marked on the calendar.  He'd appreciated a nice piece of manly nautical jewelry for Saturday, or even Tuesday.
Even if you don't know the difference between port and starboard, you can still please someone who does with a special piece of nautical jewelry especially designed for a seaman, fisherman, diver, or other sea lover.
On this page, you'll find a variety of suggestions in a wide range of prices… maybe even just the thing for your husband, sweetheart, father, son, or best friend.
---
For the Bass Fisherman
Men's Sterling Silver Bass Pendant Necklace
AMAZON.COM
If you know a bass fisherman, then you know he'd rather fish for bass than doing just about anything else in the world.  Show him you've accepted his passion, and he'll know he has a special place in your heart.
What better way to show it than with a piece of fine jewelry with a bass theme.  The sterling silver bass medallion, with Guy Harvey inspired artwork, hangs from a stainless steel chain. You'll present it in a drawstring pouch, along with a polishing cloth and a certificate of authenticity.  Very nice!
---
A Trusted Maritime Symbol
Generations of mariners around the globe have relied on beacons from light towers to guide them past hazards or into the safety of a calm harbor.  They've inspired countless songs, poems, and stories, too.
Now, you can pay tribute to these amazing pieces of maritime history whenever you dress with a tie.  It's not just any tie clip – it's a nautical lighthouse tie clip with a matte silver finish.
Comes gift boxed.
---
For Boaters, Yachtsmen, and Sailors
Men's SGW100-1V Twin Sensor Digital Watch
AMAZON.COM
Navigation is a big part of seamanship.  Tell your sailor you want him to always find his way back to you with a digital compass watch.   In addition to a plethora of cool features, including time, stopwatch, temperature, and compass readings, this timepiece is water resistant to over 600 feet.
It's just the gadget-packed wristwatch that will thrill the man who spends a lot of time around or on the water.
(Though if he's a diver, non divers should note that this does not have the functions of a dive watch-computer… better let him pick out one of those on his own.)
---
Port and Starboard (a quick primer)
What's the difference between the port and starboard sides of a boat or ship? 
Easy!  Stand on the vessel.  Face forward – that is, towards the bow, or pointy end.  Now, PORT is o you LEFT and STARBOARD is to your RIGHT.  It's actually the vessel's right and left, if you think of the bow as her head.  The directions do NOT change with you when you turn around and face the stern, or back.   Yours may, but the boat's do not.
Another way to remember:  Port and Left both have four letters, so think of those two as linked.
For Those who Travel by Sea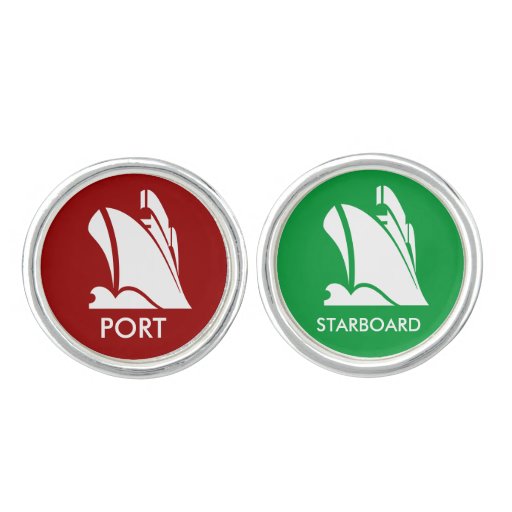 Port and Starboard Cufflinks
ZAZZLE.COM
French will never look so nautically perfect as they do with these port and starboard cuff links fastened on them.  With the red one on his left sleeve, and the green one on the right (like the running lights of the same colors on a boat) he'll be ready to take the helm in any situation.
These nautical cuff links, an essential dress accessory for any sea lover, are plated in sterling silver, waterproof, and UV resistant.
---
Aye, Aye, Captain!
Retro Handmade Ship's Wheel Men's Leather Bracelet
AMAZON.COM
Whether he's the captain of his own vessel, or would just like to be, he's sure to like this symbol of being the one in charge.
No girly bracelet, this!  It's a tough-as-leather (because it is leather) man's wrist wrap, featuring a traditional captain's wheel and fasteners in a weathered brass finish.  Hemp looking cord wrapped around the leather on each side of the help add to the nautical look.
---
Anchors Aweigh!
Anchor Keychain
You'd didn't think we could shove off without highlighting a couple of items featuring anchors, did you?  After all, they're just about everyone's favorite symbol of the sea.  So, here they are:
Anchors Aweigh Keychain
ZAZZLE.COM
A fun little any occasion, or "no occasion,' gift for a boater, cruiser, sailor, or mariner.  Against a tropical sea colored background, an anchor is encircled by a seaman's rope.
Anchors Away – the words of the customary cry heard when a vessel is preparing to sail, as the anchor is 'weighed up' on its chain or rope- completes the design on the metal key chain, which is available in your choice of two sizes.
Anchor Ring
.925 Solid Sterling Silver Men's Anchor Motif Ring
AMAZON.COM
In a design for the man who likes to keep things plain and simple, thie anchor motif ring ia made of solid sterling silver.  (Yes, you'll find the 925 stamp, signifying the silver content.)
The design is a plain one, of a silver anchor standing on its own, against a darker background.   In addition to the color shown here, there's also a choice of black, dark blue, or red.  (Just do a search for "Boat Anchor Ring Sailor Yacht" to see the several colors, and well as the same ring in bronze.)
Anchor Monogrammed Lapel Pin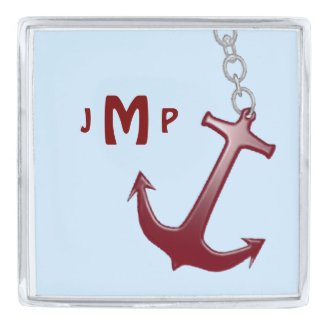 Red Anchor Monogrammed Lapel Pin
ZAZZLE.COM
One more anchor – Three's the Charm, as sailors say.
Have a little nautical fun by adding a monogrammed anchor lapel pin to your coat, shirt collar, or hat.
A red anchor hangs on its chain against a blue background, and alongside your initials.  It's nautically you, and unmistakably yours with your monogram on it.
Silver finish shown.  Gold and gunmetal finishes are also available.
---