Nautical Totes and Cruise Travel Bags
When I think of Nautical Themed Tote Bags, I think about taking them on a cruise. But nautical bags are also quite popular among boaters, and other travelers.
I see people carrying them out and about town, and to the beach. So, the ones on this page would be good gift ideas for just about any lady.  They come in all sizes from something just big enough to hold a few small essentials, to full blown suitcases.
If you are thinking of booking a cruise, or know someone else who is, nautical totes or cruise travel bags is a must, and would surely make a much appreciated bon voyage gift. I hope you'll enjoy the ones I've gathered onto this page.
---
Nautical Totes  for Every Day
Anchors Aweigh Personalized Cruise Tote Bag
ZAZZLE.COM
This personalized impulse style tote calls itself a 'cruise bag,' but nothing says you have to board a ship to use it.  It's the perfect size for those trips around town that require a good sized handbag.  Of course, it might also make a carry on for travel by air or sea.
A navy blue graphic of a seaman's rope and anchor adorns the front, with the words "Anchors Aweigh" above it and your name below. There are several trim colors to choose from, but the navy blue that's shown here is decidedly the most nautical of the lot.
This popular nautical tote is machine washable, too!
Port Side Balconies Monogrammed Nautical Tote Bag
ZAZZLE.COM
Here's an everyday accessory that's designed with the avid cruiser in mind.
The monogrammed all over print bag, that comes in either a standard tote or cross-body style depicts the side of of a cruise ship underway through the ocean.  Anyone who cruises a lot will readily recognize the rows of staterooms with their own private balconies.
Choose the style and size –  medium (16″x 16″) or large (18″x18″) –  that suits you best, and don't forget to specify the three initial monogram you want printed on it.
Nautical Seahorse Canvas Beach Bag
AMAZON.COM
Heading out for a day at the beach?  Need something roomy to take along?  This handmade cotton canvas seahorse beach bag with rope handles may just do the trick.  It's 17″ by 16″ by 6″, with a cool seahorse graphic.  The picture comes in green, red, orange, or violet.  Pick your favorite charmer.  Yes, seahorses of any color are always sure to charm!
These roomy totes are by Peach Couture, of Long Island, NY.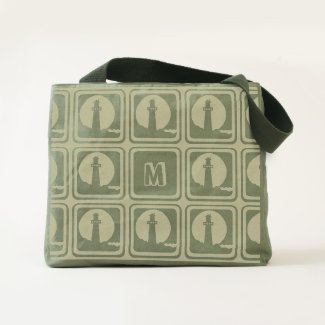 Lighthouse Silhouette Monogrammed Tote
ZAZZLE.COM
Be good to yourself and to someone else at the same time when you purchase an item from Zazzle's Adventure Collection.  Each one, like the safari canvas cotton canvas bag shown, is hand made by the mother of a special needs child in a village in Kenya.  With these products the Moms earn the money to pay for the care and schooling their kids  might not otherwise get at alL.
The special beaded mark sewn onto the handle signifies that it's made by a Kenyan tribeswoman.   Individual independent artists from around the world create the designs for the back panel of the bag, which are then laser etched by Zazzle in California.  It's a truly global collaboration.  The bag shown here sports a repeating lighthouse silhouette, with your initial in the center.
Epic Pursuit - Bird Follows Cruise Ship Clutch
ZAZZLE.COM
When you need to carry a bag that's a little more elegant, consider a fold over clutch made of Belgian linen.  In a special coastal scene, this one will have a special appeal for cruisers and even bird lovers.  On it, a seagull appears to be following an epic class cruise ship out of port, as the vessel leaves for a Caribbean Cruise.l
Ideal for day or evening use, these totes are available in several colors, including black, teal, gray, cinnamon (shown), eggplant, and indigo.  Features include a zippered closure, magnetic button for securing in the folded position, and a detachable leather wrist strap.
---
Cruise  Travel Bags
Vintage Fish Pattern | Add Your Name Nautical Luggage
ZAZZLE.COM
What a fabulous piece of luggage for the lady on the go!   So many nautical designs are perceived to be either 'unisex' or masculine in nature.  Not this one!  Ladies, this decidedly feminine desich even sports some customizable features.  There's your name, of course, but you can also choose the case color (white, black or gray) and the color of the fittings, like the handle and bumpers.  The designer has chosen to display the blue options, but there are 9 others to choose from as well.
These quality pieces have all the features  you'd expect from UgoBags Customized Luggage:  double spinner wheels, telescoping pull handle, tsa compliant combination locks, fully lined interior with organizational aids, and more.
Choose from three sizes:  Carry on,  Medium (26.5″L) and Large (31″L)
Sailboats Shoulder Strap Carry On Duffel
AMAZON.COM
White sailboats on a navy background will serve well to set your carry on apart from all those others.  Take it away with you for the weekend or longer!  It's roomy inside… as roomy as airline regulations allow, that is.  The 21″ x  11″ x 8″size complies with the requirements of most airlines.
Made of water resistant polyester, you should be able to just wipe it clean.  There's a reinforced bottom and rubber feet for sturdiness, and a zipper closure for security, plus two zippered pockets – one each on the inside and outside – to help you stay organized.
This bag also comes in a monogrammed version for a reasonable upcharge.   (Just select the other sailboat bag image.)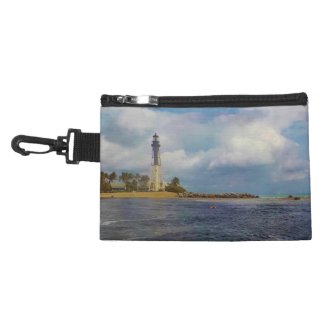 Scenic Hillsboro Inlet Light Clip On Accessories Bag
ZAZZLE.COM
A scenic lighthouse that's pretty enough to pack on the outside of your bag, and that's just what this accessory holder is designed for.  Whether you're taking a road trip, going camping, golfing, cruising, or just running around town, you'll have easy access to those small, but essential items.  You know – the ones that always sink to the bottom of your bag.
Never have that problem again, and solve it with some real nautical style.  On this clip on bag is a coastal scene from southeast Florida, with a maritime landmark that's stood at the entrance to the Hillsboro Inlet since the year 1907.
Nautical Anchor Make-Up Cosmetic Carry Case
AMAZON.COM
A simple make case that may just be simply what you need for those quick jaunts or lengthy journeys.  In a microfiber material that wipes clean, it comes in white anchors printed on your choice of a gray, navy, or black background.
Super light weight, and small enough to fit right into you airline carry on without taking up too much oh so precious space, the zippered case is just nine inches wide by siz inched tall.  And, at such an affordable price, you can afford one of each color – each one to hold a different type of cosmetic or accessory.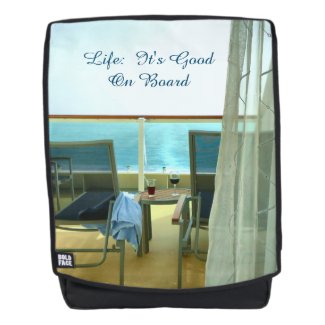 Good on Board Custom Backpack
ZAZZLE.COM
Backpacks are an increasingly popular option for all kinds of travel, and for travelers of all ages.  Set yours apart with custom artwork on an interchangeable face.    That's an option you won't find on just any run of the mill backpack!
But, that's not all.  With wide, padded shoulder straps, solid construction, with room for your laptop, side pockets, and more, you'll love all the features of this top of the lind bags!