Personalized Gifts for Newlyweds
If you are looking for ideas for wedding gifts, or for something special for a couple who has recently tied the knot, think personalization.
Make a gift for a couple extra special by giving something with a little extra meaning because it's personalized just for the two of them.  Gifts for the couple's new home are always appreciated, but they become even more special when they are decorated with their monogram or emblazoned with their now shared last name.
A set of mugs with an understated single initial monogram representing the couple's last name marks their kitchen as theirs.  In the living room, a throw pillow with the last name and wedding date commemorating the day they started their life together is a decorator accent all their own.   A  welcome mat is something that may seem mundane at first blush, but when it's a personalized one, it announces their union to everyone arriving at their door.
Personalization makes everyday items things to treasure – especially when the recipients are newlyweds.
---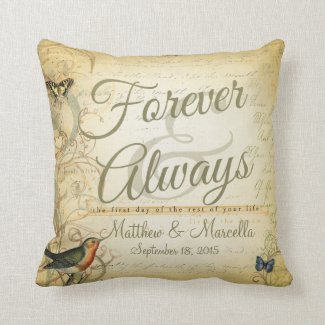 Wedding Day Forever & Always Throw Pillow
ZAZZLE.COM
The bride will love this romantic pillow, and the groom will love it because she does.
In neutral tones, it will blend in with just about any color scheme.  The front is personalized with their first names and the wedding date.  Their last name appears on the back, along with a large "Mr. & Mrs." graphic.
It's available in three size choices, and four fabric selections – even one that's made to be used outdoors, on the patio, lanai, or balcony.
---
Elegant Brushed Black With Simple Gold Monogram Soap Dispenser & Toothbrush Holder
ZAZZLE.COM
Nothing says "married" like having your toothbrushes reside in the same bathroom.  Unless, of course, they're placed in a monogrammed toothbrush holder.  Pair that caddie with a matching dispenser for soap or lotion, and you've got a winner.
In elegant black, gradient shaded to gray at the top, the single initial monogram is centered in a simple diamond outline whispers sophistication.
Both pieces are in ceramic.
---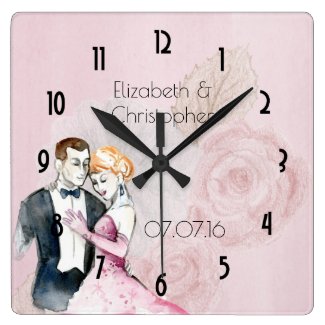 Vintage Wedding Couple On Pink Roses Personalized Square Wall Clock
ZAZZLE.COM
A couple who appreciates a vintage look will enjoy this personalized wall clock for newlyweds.  They'll add a romantic touch to the wall of their home and be able to keep up with the time, too.
Their first names and the date they said "I do." are incorporated into the retro design of this battery operated wall clock.  You can choose black or gray hands, too.
---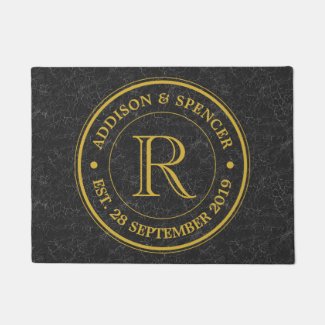 Gold Monogram Black Leather Wedding Anniversary Doormat
ZAZZLE.COM
Fully customizable, from the center initial to the surrounding names and date, this welcome mat says it all.  The choice of wording is yours.  For example, you might specify a last name in lieu of the couple's first names.
This particular personalized doormat is best for an apartment or covered doorway, or for in the foyer, rather than being completely exposed to the elements.  It will last longer that way.  The good news, though, is that it's washable… just spray with a garden hose.  It's also fade resistant, and has a non-skid rubber backing.
---
Hawaiian Bold Plumeria Floral Wedding Keepsake Throw Blanket
ZAZZLE.COM
Tropical color is the order of the day with this seft throw blanket with a horizontal orientation just made to throw across two laps for watching a movie on TV, or just cuddling.  It's a generous 54″ wide.
Beautiful Hawaiian plumeria blooms surround the names and date.  Don't fret that the sample name is rather short.  The letters are spaced.  A ten letter last name fits well on this gift that's perfect for enjoying some quality time with a new mate.
---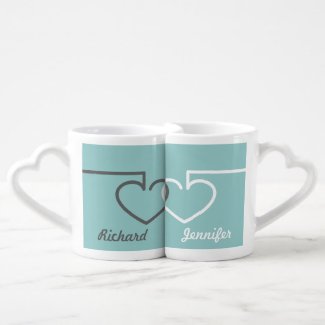 Two Interlocking Hearts Coffee Mug Set
ZAZZLE.COM
Morning coffee or tea is never better than it is when it's enjoyed with your true love.  Make it sweet, too with a couples mug set that's personalized.  The two cups nestle together, and complete one another – just as soul mates are said to dio.
The heart shaped handles are the perfect finishing touch for these eight ounce ceramic mugs.
---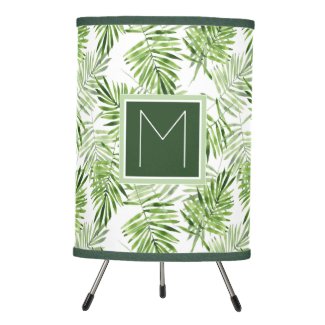 Green Palm Leaves Monogram Tripod Lamp
ZAZZLE.COM
Ideal for by the bedside, a little accent table, or on a desk, this little monogrammed tripod lamp will bring a bit of the outdoors inside, with its green palm frond motif.
Made in the USA, the shade comes in your choice of three materials.  The lamp can be purchased as shown, or as a standing desk lamp or a hanging pendant lamp.
---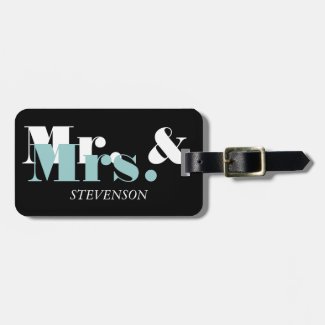 Cute Mr and Mrs travel luggage tag for newly weds
ZAZZLE.COM
For their honeymoon, as well as for their subsequent weekend jaunts and lengthy adventures, a set of Mr. and Mrs. luggage tags will help the couple to travel in style.  Customized with the last name on the front.  Since the individual names are on the back, a pair of personalized tags for the Mr. and pair for the Mrs. would make a nice gift set.
TRAVEL TIP:  Note that, while the back provides space for name, address, and phone number, travel experts advise against putting the home address on travel tags, especially if the residence will be vacant while the travelers are away.  A first name and phone number are sufficient for the finder of a lost bag to track down the owner.