Wedding days may be full of bliss but before reaching this very special day, a lot of preparations and nerve wrecking rehearsals are done which exhausts all the energy of the couple. The couple is mostly concerned about their guests more than ever and they would want to present their vows the best way they could. Guests are witnesses to the couple's proclamation of their undying love in front of the altar. Wedding gifts brought by friends, family and co-workers are much appreciated by the couple. These gifts bring smiles, cheers and these would slowly melt away their stress but gifts that come in several pairs of the same kind may also cause a burden on the part of the couple. As a guest, you would want your gift to stand out among the rest. You want yours to be more personal so that you'll be remembered by the newlyweds. If you are looking for personal wedding gift ideas then it's your lucky day. We have handpicked the top gifts on the internet to help you find a personalized and memorable wedding gift for your beloved friends who are about to take the plunge. Browse below our top picks.
Our Wedding – Photo Album
ZAZZLE.COM
Every moment of the wedding day is very much cherished and the way to remember the nostalgic feeling it has brought is by capturing photographs. For sure the couple would have hundreds of photos taken during their very special day and a way to keep them all intact is by providing them a special binder like this one to keep the memories alive. This photo album binder is special among the rest because it has on the cover the photos of the newlywed that you like best. It is very eye catchy and unique. It holds 500 pages which are designed for 8.5 inches by 11 inches paper. It has EZ turn rings for the 500 pages album and the 1 Touch EZD for the 540 pages. The EZ turn ring has the Gap free t\system which prevents gapping and misalignment of pictures. You can customize the design of this photo album binder from the front, back and even the spine. You can fill it with the photos that captured the highlights of the couple's wedding day to make it more special. If you are looking for a personalized and sentimental gift then this gift idea is the right one for you.
Personalized Family Name Sign
AMAZON.COM
Marriage is the beginning of a new life ahead of the couple. Having their own family is another adventure that both of them would tackle. Seeing the name of their family is such a lovely sight to look at. This personalized wooden plaque bears the last name of the newlywed and can be customized to say what you want too. It measures 8 inches tall and 23 inches wide. The sign comes with a saw tooth hanger which makes it be ideally displayed and adored on top of a desk or table. It is a great wedding gift for your favorite couple.
You Are My Happily Ever After Canvas
PERSONALCREATIONS.COM
What comes after the "I Do", happily ever after does. Marrying someone you love makes the journey to a new milestone bearable and worth it. This beautifully designed canvas is a great addition to the newlyweds' wall. This can be placed on their bedroom so both of them can see it every waking day, on a mantle, on window sill or in any part of the house. The names of the couple and their wedding date is added on the happily ever after canvas as a form of celebration of their love and their promise of forever. The canvas can be customized with any two names for up to nine characters each and with any date. The art canvas has a distressed look and is stretched over a wood frame that is solid and sturdy. It measures nine inches in height and twenty seven inches in width. This is a romantic wedding gift for the loving newlywed who are both believers of happily ever after.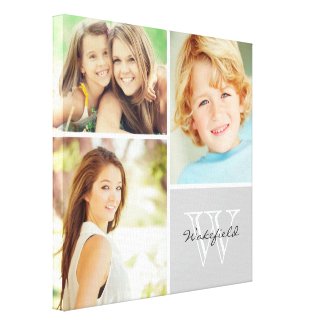 Custom Family Monogram Photo Collage
ZAZZLE.COM
A beautiful keepsake with family photos arranged in a grid photo that would be tattooed in the couple's memory for a life time. This custom made family monogram photo collage gloss canvas is made from special ink receptive coating which protects the printed surface from cracking when stretched. It is made with a tight weave which is ideal for the newlyweds who adores photographs and still memories. The instant dry gloss canvas produces prints that are fade resistant for up to seventy five years or even more. You can customize the canvas according to the couple's liking, change the background and customize the monogram fonts and colors. This can even be used in the wedding reception for an added personalized touch and design that would certainly beautify the place. An elegant gift that is made from high quality materials that could be used as an addition to the newlywed's beautification materials in their new home and can also be hung in their wall and be displayed to be adored every day with the help of the pre strung wire included.
Mr and Mrs Pillow Cases
AMAZON.COM
This is a perfect gift for the newlywed which is artfully crafted by Florida Studios. The Mr. and Mrs. Pillowcases are made from very soft microfibers that give a heavenly touch and feel. It comes in white color with a twenty by thirty inches measurement which fits standard size pillows. It can be machine-washed in cold water and should be washed with no bleach and only with like colors. The design is printed in a unique water based process that is directly designed to the fibers of the fabric and becomes permanently dyed and crafted into the pillow case. The pillowcases can be personalized by adding the names of the newlyweds together with their wedding date. In addition, the pillowcases are enclosed in a gorgeous shimmer snow white organza bag that can be readily given as a gift when purchased.
Personalized Bath Caddy
REDENVELOPE.COM
A spa day reenergizes the body and gives that recuperated feeling afterwards. If the newlyweds are spa fanatics then this would be a great gift for them. This personalized bath caddy is a perfect resting spot for their things as they soak up underneath their bubble bath. The caddy is made from acacia wood which is durable through the test of time. The acacia wood is even used way back in ancient Egypt for their furniture. In addition the richness of the color of the acacia wood makes it look dramatic and elegant. You can personalize this caddy by putting a single letter monogram or up to three lines of text for up to twenty characters. It is 29 inches by 8 inches and 2 inches in height that can expand to 34 ¼ inches by 8 inches and 6 ½ inches in height. Keeping the couple's valuables near even while in the bath is all possible with this personalized bath caddy.
Galvanized Beverage Tub with Stand
PERSONALCREATIONS.COM
If the newlyweds are huge fans of the outdoors, barbecue or even pool parties then this would be the perfect personalized gift for them. The galvanized tub with stand can hold approximately twenty four beer bottles. Keeping the beverages cold while outside and keeping it stylish and personalized is brought altogether by this galvanized tub. In addition this tub is designed not to rust. You can fill it with ice and keep the items there to keep them cool as you party. It can be personalized with up to 14 characters. The tub measures 20 ¾ inches in length by 11 ¾ inches in width and 7 inches in height. It weighs 4.4 pounds and has handles on each end that makes it easier to be carried around.


Buying the perfect wedding gift for the couple is never easy especially if you want a different gift among the rest. Giving a personalized gift with the couple's faces, names or even initials on them would be a charming and bold move in showing your appreciation for inviting you over their very special day. Sparkling personalities have varying needs and wants but a personalized gift could always suit every recipient without feeling generalized and not given much thought.