Baby shower is a celebration of welcoming the new member of the family. It is a pleasant thing to for a family to know that there is a new addition to their family. Babies are the ones who bind the family closer to each other.
Giving gifts for baby shower may be nice but it is better if it is something practical and useful for the mother and the baby. It would be better to give something that the baby can use, like baby furniture, baby dresses and organizers because it will make your gift more memorable and special. Check out these cool baby shower gift ideas that are so practical and useful to give.
4 in 1 Fixed Side Convertible Crib Changer
AMAZON.COM
If you are looking for the best baby shower gift you can give your future niece, nephew, granddaughter, grandson or your best friend's son or daughter, this gift idea is the one you are looking for. It is 4 in 1 baby furniture that can be converted into a baby crib, toddler bed, day bed and a full size bed. it can be used even your little angel is no longer a baby. It comes with a waterproof vinyl change pad that protects the crib from being wet. This is absolutely a practical and very useful gift. This gift will last for years and years to come.
Giraffe Baby Crib Toy
AMAZON.COM
What a lovely and colorful gift idea. This will make your little baby busy playing and staring at this colorful crib critter. This will also help your baby be familiarized with different colors and it will also develop his senses. It can be wrapped around the crib rail or on the carrier handle and it will keep your little angel entertained. This cute toy will encourage the baby to interact and to move. Perfect gift idea that is so practical and useful for babies.
Make baby shower time convenient and fun for the mom and her baby. This lovely bath towel is specifically designed for baby's safety and mom and dad's convenience. It is a wearable apron towel making it easy to carry the baby securely after giving him a bath. This will give moms a secure grasp compare to regular baby bath towels. This will avoid moms from the hassles of drying their baby. It is made from 100% cotton terry velour best for bathing, drying and wiping your little angel. This is absolutely a very practical gift to share.
Hooded Bath Bag with Zipper Front
AMAZON.COM
This gift idea will keep your baby warm and dry. It is made from 100% thick cotton terry fabric. It has hood to keep the baby warm and comfortable. Its wide bottom and generous size makes your baby move comfortable and freely. A zipper front feature gives easy access to moms in putting it on and off their baby. It is machine washable and practical gift for moms and new moms.
Basic Mama Hospital Labor Bag and Baby Bag Bundle
AMAZON.COM
Personally I like this gift idea. For me this is the most practical baby shower gift idea to give. It is very useful because what you are giving them is a worry free gift. They are free from thinking what things to bring on their most awaited day. there are times that even how prepared a couple is they still forget to bring things they need in the hospital. This gift idea will make sure that everything is covered for them. It has travel size products that are very useful. This gift idea is a gift of convenience. It is a great gift that the recipient will truly appreciate.
Dexbaby Nursery Organizer
AMAZON.COM
This is a gift of convenience. This gift idea will keep baby's things organized and clean. It is something that makes sure that everything is in its proper places. It gives convenient access whenever mom is changing his or her diaper. This is a very practical gift baby shower gift idea for those who are waiting to have their new baby. it can be mounted on the wall or near the door giving easy access all the time. This nursery organizer is definitely a great gift idea that covers the parent's basic concerns in their babysitting life.
Fisher-Price Soothing Motions Glider
AMAZON.COM
Fisher-Price soothing motion glider is a nice baby shower gift. This will keep the baby safe and comfortable. It is a soothing seat for a very fragile baby that features two way gliding motion and a soft plush snuggles giving your baby a comfortable feeling. It comes with a removable toy plush characters that will keep the baby entertained all the time. what a wonderful baby shower gift idea that will help the parents take care of their child safely and conveniently.
Badger Basket Elegance Round Baby Bassinet
AMAZON.COM
A classic full bedding set of comfortable mattresses and bed furniture for the new baby. It has caster wheels and a very useful compartment on the base for storage. It has a generous size so that the baby can sleep well. it is a graceful canopy specially made for a lovely baby. it is made of wood, metal and fabric, giving this gift item great quality and durability. this is a very useful and practical baby shower gift that will benefit both the parents and their new baby.
Summer Infant Contoured Changing Pad
AMAZON.COM
A wonderful piece of mattress that will securely keep the baby in place while mom changes his or her diaper. It is designed to provide great comfort and safety for the baby and convenience for the mom during diaper changing time. it has this strap that securely keeps the baby in place to avoid baby from rolling and moving. Its contoured shaped helps keep the baby on the pad lying down. This is a very smart baby shower gift to give. Great choice.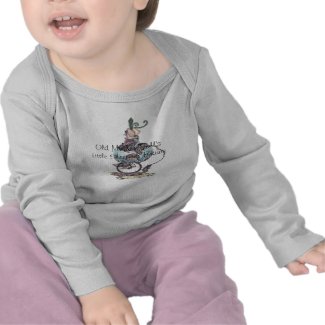 Old Mother Troll's Baby Shirt
ZAZZLE.COM
A gift that will wrap your little one with love and luxury. This lovely long sleeve by Bella will keep your baby warm and comfortable. This can be customized and no matter how you like it to be customized your baby will look adorable and great with this long sleeve made from pre-shrunk cotton fabric. Available in white, gray and pink colors.



A practical gift is a smart choice because it will become more memorable. The parents will be thankful having these gift ideas because they are very useful. These gift ideas will give the parents convenience and comfort to their new baby.