For a big chunk of the human population, it almost seems as if a bit of salt water might run in their veins. Every year, millions of us travel by  sea, either by profession or for pleasure. Some of us vacation on cruise ships, while others join the crew of a cargo, research, or military vessel. Many more take short trips on tour boats, or spend weekends fishing or pleasure boating.
Whether they're the master of a cargo ship, the owner of a sailboat, or a weekend fisherman with a dingy, one thing's for sure: they just can't resist the call of the sea. For those who find themselves looking for something to please the soul of a mariner, we've put together a collection of fun gifts that a seaman just might find irresistible.
---
Personalized Captain's Polo with Boat Name
ZAZZLE.COM
It's nautical style on the high seas! A laurel wreathed anchor with the captain's first or last name above it and the boat's name below makes this polo the perfect on board wearable for the lady or gentleman in charge of their own watercraft, large or small.
Available in a variety of colors, including black, navy, maroon, royal blue, red, and forest green, it's made of 100% cotton.   Personalization is easy, too – just fill in the blanks.
---
Large Dry Bag with Shoulder Strap
AMAZON.COM
For anyone who is serious about spending time around, on, in, or under the waves, a dry bag is an essential accessory. Take one along on your dive, fishing, or pleasure boat, even your kayak or paddle board to keep your dry gear dry.  Trapping air when rolling it closed makes it a floatable container, too.  How useful is that?
This one is a generous 22″ long to hold a lot, and comes in four color choices, each adorned with everyone's favorite nautical symbol – anchors.
---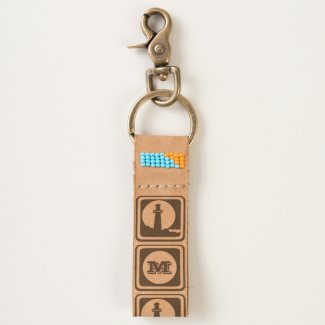 Lighthouse Silhouette Monogrammed Keychain
ZAZZLE.COM
Here's the perfect way to keep the boat keys – on a monogrammed leather key chain with lighthouses on it.  Those beacons of safety are always a welcome sight to boaters the world over.
This one is from Zazzle's Adventure Collection, a collaboration with Ubunto Made, providing jobs for mothers and schooling for children in Kenya.  These ladies make the leather goods, artists around the world create the surface designs, and Zazzle laser etches those designs onto the products.  The only piece missing in the story is YOU.  When you purchase one of these products, you complete the circle that's helping to support both the Kenyan women and the school attended by their special needs children.
---
BoatMates Cockpit Organizer
AMAZON.COM
For a boating accessory that will be appreciated, but won't deplete your wallet, consider a cockpit organizer, like this one from BoatMates.  It can be temporarily attached or permanately affixed to a convenient location on the boat. Keeps favorite lures, fish grabbers and knife, even your iPhone and sunscreen close at hand, yet out of the way.
Your favorite fisherman will love it in either white or graphite!
---
Sailing Personalized Nautical Power Bank
ZAZZLE.COM
Sail away with the confidence that your devices will have all the power they need.  When you travel by land, sea, or air with your portable power bank, you'll never need to look for a power outlet for charging up.  Personalized with your name on it, this one sports a nautical sailing theme, and the Lithium Ion battery is rated for up to 500 charges.
It comes with the cords you'll need to charge just about any device that can be charged with a USB cable.
This essential boating and cruise accessory is also invaluable in other circumstances, including camping and extended power outages due to hurricanes, blizzards, and floods.
---
Waterproof LED Rechargeable Spotlight
AMAZON.COM
Don't be caught out after dark without your own light.  On a boat, it's a good strong waterproof one you'll need.  There are no streetlights at sea, but there IS plenty of wet stuff around.
This waterproof model is rechargable, and comes pre-equipped with battery.  Best of all, it floats.  Not only that, but its float position is with the light visible above the water.  Very handy!
---
Home is Where the Captain Hangs His Hat Nautical Coat Rack
ZAZZLE.COM
He (or she) may wear the captain's hat for days and days at sea.  But, when he comes home, he'll need a place to hang it.  And his coat, too.  This three hook nautical coat rack provides the perfect place.  Inset tiles show the side of a large cruise ship underway, as well as the words "Home is Where the Captain Hangs His Hat."  (Can be customized to read "her hat," if desired.)
No matter what the vessel, it needs a captain, and he (or she) is still a captain, even on dry land.