The bride is the center of attention on her wedding day. She would be the prettiest lady of the occasion, glowing and dashing in her white gown. Her careful and dramatic walk on the aisle would be memorable for everyone and the solemnity of the occasion intensifies in her presence. Gifting the bride would be a tough nut to crack if the bride seems to have everything. It may also be difficult if the bride doesn't give a hint on what she really likes for her wedding day. When a bride gets tons of presents from her registry, it would be more difficult for her to figure out what she really wants. Don't despair, we have here your trusty guide of top gift ideas that the bride would enjoy and appreciate. Check out the list below.
The Bride's Instruction Manual
AMAZON.COM
Being a bride is not an easy job. Preparations for the wedding and the life after the big day are such tough cookies to digest. Some even turn into Bridezillas and crack up because of the tension caused by preparations and by over thinking of some matters. Brides do need some support system to get through these nerve wrecking preparations. Sometimes, such support system doesn't suffice and cold feet kick in. The Bride's Instruction Manual is an indispensible and user friendly book that covers the basics and the essential topics that every bride needs to know from setting the date, choosing the dress and even up to walking down the aisle. It is written by a veteran wedding journalist, Carrie Denny. It is an ideal gift for the preppy bride who wants some guidelines at hand.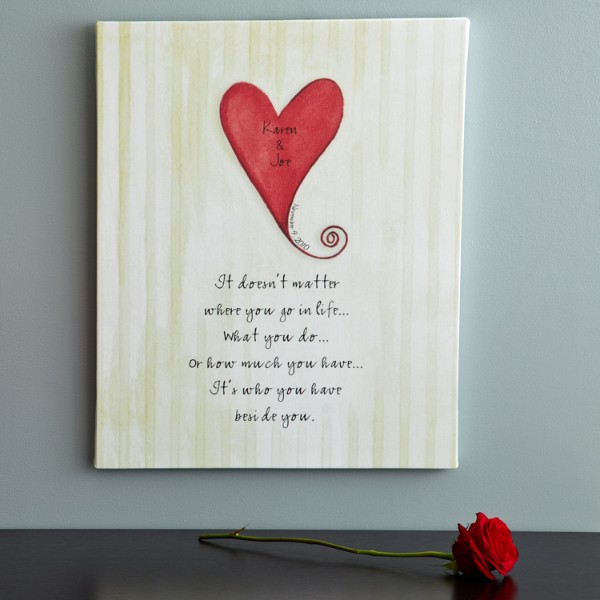 Heart Wedding Canvas
PERSONALCREATIONS.COM
A meaningful gift that would be cherished by the couple is this fine piece of art that could be displayed in the couple's living room or bedroom. It features a loving sentiment about finding one's true love. This gift can be personalized by adding the names of the couple for up to 9 characters each, joined by a "&" sign and their special date. It can be delivered as framed in an antique gold that comes in three sizes or may also come unframed if preferred. Melt the heart of the bride with this sentimental gift.
Willow Tree Promise Figurine
PERSONALCREATIONS.COM
A promise of forever is the very essence of a wedding day. This willow tree promise figurine is a gentle reminder to the bride and her groom to forever hold each other dearly as they celebrate their promise of love. This elegant willow tree figurine captures the hope and promise of the covenant of matrimony; it is designed by a renowned artist, Susan Lordi. It comes with a hand painted base that contains a one line message for up to 30 characters. A very lovely piece of keepsake for the bride's wedding day indeed.
Test of Time Wedding Clock
PERSONALCREATIONS.COM
This is not your ordinary wall clock, it bears a timeless message of love that would fully accent the loving home of the couple. An heirloom piece of art that is eye catchy and stunning, it bears the couple's name and marriage date along with a beautiful love message. The numbers are on a black face which gives it a dramatic effect. This wall clock can be customized and any message can be engraved through laser for up to 25 characters.
Customized Circle Birthstone Pendant
REDENVELOPE.COM
This lovely irregularly shaped circular pendant signifies an eternal loop that symbolizes forever. The birthstones are intact to represent family, meaningful bond and loved ones. This would highlight the bride's overall look as it is elegantly wrapped around her neck on her big day. It comes with a 1.3 mm cable chain that extends up to 18" long. The birthstones are made from 4 mm cultured round gemstones. You can choose for up to five birthstones in the order of your choice. You can choose from sterling silver or 14 k gold plated. It is very light weight and could be worn in formal occasions and during fun time. A well presented necklace that would give distinct beauty on the neck of the bride especially on her wedding day.
Aromatherapy Gift Basket
AMAZON.COM
Wedding planning and preparations gave the bride a lot of sleepless nights. Give the blushing bride a gift of R and R in a basket with this aromatherapy set. The Jensan Organic Aromatherapy Gift Basket contains hand made products that have no preservatives, no artificial colorants and scented using only pure essential oils. Organic Shea butter is used in the soap bars because of its rich moisturizing properties and how it works to improve skin tones. Used together these certified organic oils and ingredients work to create a wonderful cleansing soap that softens and enhances the natural texture of the skin. The skin softening body butters are made with organic Shea butter and the organic oils of jojoba and coconut. The benefits of Dead Sea Salts is enhanced with the addition of sweet almond, and certified organic olive, soybean and macadamia nut oils. Let the bride pamper her body and senses with the aromatherapy gift basket.
The True Facial
CLOUD9LIVING.COM
Give the bride a gift that she would not only enjoy but would also benefit her more to make her glow and be a true blushing bride. This soothing and uplifting facial will give the bride not only soft skin feeling but also gives her a brighter and fresher look. Mushroom enzyme mask is used to remove tired and dull skin. The relaxing facial treatment lasts from 30 to 60 minutes. The spa has a quiet relaxation lounge, sauna, steam showers and lockers for a holistic relaxation experience. The radiant bride would come out fully transformed with this rejuvenating facial treatment.
Gondola Dinner Cruise
CLOUD9LIVING.COM
A romantic twist on the dinner date is what this gondola dinner cruise brings. Make the bride feel that she's in Venice and let her enjoy a memorable dinner with her groom aboard an authentic gondola. The cruise runs from 1 and half hour to 2 hours with a three to four course meal that is catered by Chart House Restaurant along with a sparkling cider or an Italian mineral water. This is an exclusive dinner date for the couple so they could enjoy and cherish each other's company even better. They might need some time to spend with each other to remove some tension and stress caused by the wedding preparations. Spoil the bride and her groom with this romantic and exclusive dinner cruise floating aboard an attractive Venetian styled gondola as they marvel an unparalleled waterfront.
Let the bride and her groom enjoy each other's company and tour around the city in a whole new perspective. This will be a memorable experience for them as they soar around the city in a whole new light. The scenic flight experience last for approximately one hour and they will be flying in a Cessna 172, Piper Arrow 3 or a Diamond DA-20. The blushing bride and her charming groom would see their city in a bird's eye view and this memorable experience would be highly appreciated by the newly wed. It may be one of their bucket lists in life and they would be more than glad to have you as an instrument in fulfilling one of their dreams.


The beautiful bride may seem to have it all on her wedding day and finding her a gift would be a tricky task to accomplish. Another boring gift would be too main stream and may be forgotten later on. Finding the perfect unique gift for her will make her remember you and help her create memories that will last a life time.