40th Wedding Anniversary is a special occasion to celebrate. 40 years spent together is a wonderful achievement of a marriage. Ruby is the symbol that stands for your parent's 40th wedding anniversary.
It said that ruby has an eternal inner flame that stands for the passion in a marriage. This eternal inner flame fuels their marriage.



40th Anniversary Ruby Heart Frame
AMAZON.COM
Let your parents remember their 40th Wedding Anniversary with this Anniversary Ruby Heart frame. This is such a beautiful gift to give your parents. They can put their favorite photo together. This gift is accented with red crystals that look like rubies. It has a velvet lining at the back to protect the photo and a clean finishing. This ruby photo frame will truly be appreciated by your parents.
Ruby 40th Anniversary – Books of Love
AMAZON.COM
There are some things that cannot be expressed by words or any symbol. There are thoughts and feelings that are hard to say. This book of love is an old-fashioned way to release these sentiments. Your parents might find it hard to say what their hearts wanted to tell each other and this gift idea might help them say what their heart really meant. This will tell the words that their hearts left unspoken. This is unique gift to give your parents on this special occasion.
40 Years Together Love Story Photo Album
AMAZON.COM
Tell the world of their love story. This Photo Album is a way to tell the story of their 40 year love story (…and counting) they can keep their photos for the time they met and the milestone of their marriage. This is to remind them about their teamwork and how they manage to stay strong and reached this milestone. It is a 100 acid-free pages photo album where in each page holds two 6X4 inch photos. There is also a room for a photo description to tell something about how special that photo is.


A Ruby Earrings and Necklace Set for Mom and Ruby Ring for Dad
Give them something that will last forever! A traditional ruby set of jewelry for both of them not only says you treasure them but will look gorgeous on them on their wedding anniversary party or dinner.
Ruby Heart Pendant Necklace and Earrings Set
Mens 7.00 Carats Round Cabochon Ruby Ring
Couples Wine Dinner
CLOUD9LIVING.COM
Give them a romantic night with this Couples Wine dinner gift. Let them have a perfect date at Nashville's #1 wine bar. They will definitely enjoy a wonderful night together as Chef Hern Silvio creates a 4 course menu in an Italian and South American blend of taste that perfectly paired with wines specially made in Nashville. The taste of a wonderful wine makes it more distinct if paired with a nice gourmet meal just like your parents' marriage. Their marriage wouldn't taste sweeter if they are not together.
Gondola Dinner Cruise for 2
CLOUD9LIVING.COM
Make your parents have the most memorable wedding anniversary. Give them this gift idea where they will enjoy the romantic scenery along Las Vegas Lake. They will have a delicious meal for to catered by Sunset & Vines Restaurant and have a toast of champagne or sparkling cider. Your parents will love to have a wonderful date and let them reminisce their early years of romance.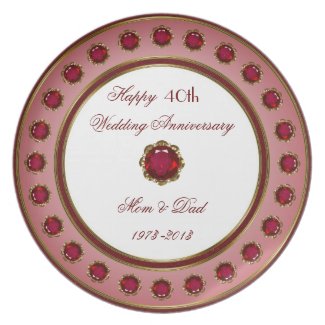 40th Anniversary Plate
ZAZZLE.COM
This gift item is a perfect gift for your parents' 40th wedding anniversary. It has an elegant and attractive design. It features red ruby and gold color that suite the occasion. It has a custom text to make it more personalized and makes this a perfect gift package. This ruby plate will make this occasion really memorable. It is also a drop and break resistant making the plate durable and it will last long just like you parents' marriage.
Sterling Composite Decorative Ruby Vase
AMAZON.COM
If your parents love to collect decorative vases and stuff, this gift item is the best choice to give them. This Sterling Composite decorative Ruby Vase is the perfect present they'll have in their 4oth anniversary. First it has a ruby theme that is the symbol for 40th anniversary and next is it is a unique gift idea and practical too! This ruby vase is made if composite materials and has a wonderful ruby color. It becomes a great display that creates a welcoming ambiance in their living room. This is a gift idea that wouldn't make you think twice to give them.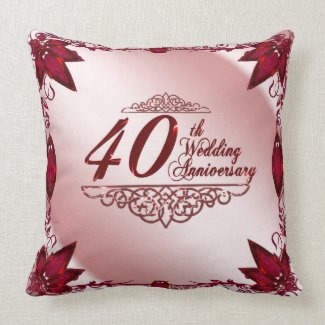 40th Wedding Anniversary Throw Pillow
ZAZZLE.COM
Look at this romantic gift idea for your mom and dad. This 40th anniversary pillow has a ruby red color that is a perfect gift for this occasion. You can add their photos together or their names and their wedding anniversary date to make it more memorable. It is made of fabric form natural fibers and woven cotton. It will be a perfect complement to their couch making it more romantic!
Couples Massage
CLOUD9LIVING.COM
Why don't you give them the luxury of relaxing massage and blissful day together? Let them be relaxed as two therapists sweep off their stress while the lay side by side. This gift idea will definitely replenish their love as they enjoy this romantic couple's massage together. This is an ultimate relaxation they'll spend together and what makes it much more special is they are sharing this happy moment to each other on their 40th Wedding anniversary.


Don't let this special occasion pass without a special gift prepared for your parents. It wouldn't matter is it is expensive or not. This is a special day for the whole family to celebrate because you wouldn't be enjoying having a wonderful family if your parents weren't able to keep their marriage strong and happy.