Father's Day is just around the corner. As we all know, it is a day to celebrate the greatness of fathers all over the world. You know how much your dad means to you but since you are now married and you technically now have two dads. One dad is your biological father and the other one is your father in law.
Getting a present for your own father may already be nerve wrecking if he is a little too hard to please but have you thought about what to give to your father in law? Before getting him any gift, bear in mind that this is your best time to bond with your in law. You can show your appreciation or make amends if necessary but either way, you should make this day special for him too. If you are mind blocked on what to give your dad in law, we got your back and we have suggestions below that will surely make you a thoughtful son or daughter in law. Check out our gift ideas below.
Rawlings Baseball Stitch Front Pocket Wallet
AMAZON.COM
Your dad-in-law is a sports enthusiast and baseball is his favorite. On Father's Day, you can gift him a baseball themed front pocket wallet cum money clip.
This Money Clip Wallet is a minimalist type wallet that comes with a slip pocket, 2 card slots and a magnetic money clip. This wallet can hold his credit cards plus cash but it is slim enough to fit in a front pocket. So, no more uncomfortable bulge at the back of his pants plus it is a deterrent to pick pocket.
The wallet is made from 100% hand-rubbed calfskin leather and the baseball inspired red stitch lace on the back looks really good.
If your father-in-law is a socialite who is fond of having a good time with his friends especially when there is booze and more booze then this next gift idea would be a great hit for him. Celebrate Father's Day with your father in law through this over sized beer mug which features the dates that changed his life forever. This glass mug is truly one of a kind.
You can even personalize it with any title or name for up to 10 characters. It can hold for up to 25 ounces. This is a sturdy mug for the strong father in law who is the light of the party.
Most men are fond of fixing stuff, that's why they are fond of hoarding tools of some sorts. On Father's Day, give your Mr. Fix It father-in-law a multi functional tool that's very handy and can easily slid to his key ring. The Geekey Multi-tool is a key shaped pocket tool with 16+ different function that is ideal for all kinds of quick fixes.
It is very convenient for travel if your father in law is always on the go and it is TSA-compliant. He can bring this anywhere he goes since it can be conveniently carried together with his keys. It is a handy bottle opener, multi-head screw driver, open wrench, serrated knife, can opener and many more.
Citizen Men's Eco-Drive Watch
AMAZON.COM
A watch may be one of the traditional gifts given on Father's Day but there's a reason why it is a big hit on Father's Day. Aside from being a practical gift, this is also a gift to show how much he means to you by putting thought on the details and style which he prefers the most. Give your father in law a classic watch on Father's Day to remind him that time spent together is as precious as he is.
There may be various designs available in the market but a classic design is just exceptional. Timekeeping would not be a difficult task to decipher since it is a classic and elegantly designed watch with no confusing gadgets attached. Your dad in law can wear this in any outfit he may prefer. This classic watch is under the Eco drive technology which means that it never needs a battery since it is run by solar power. Aside from the time, he can also keep track of the date because of the added date function. It is water resistant for up to 330 feet, so dad in law can wear this even as he swims or dives.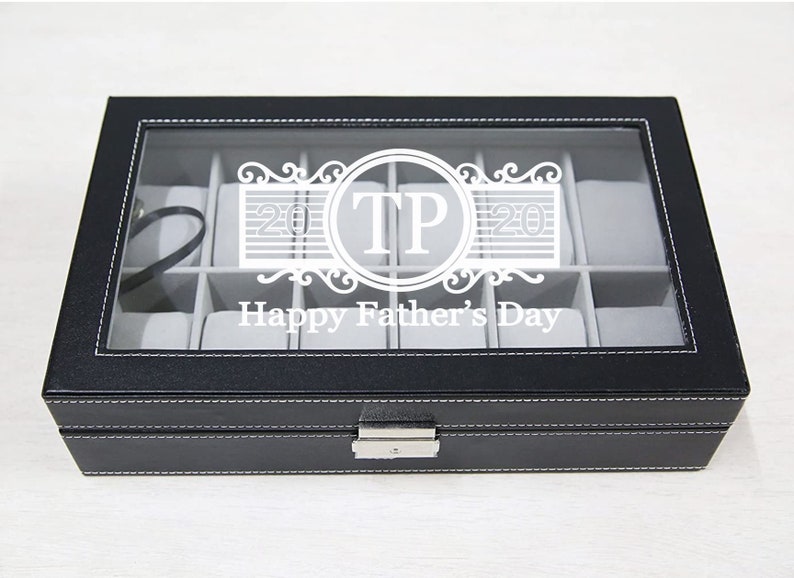 Custom Engraved Leather Watch Box
ETSY.COM
He has a watch collection but he doesn't have a proper space to store them all. On Father's Day, the great gift for the watch collector father-in-law is something that can help him house his beloved collection.
This Leather Watch Box is the perfect gift idea for him. Various sizes are available that can store up to 21 watches. It has a glass lid that can be customized with an engraving of your choice.
This leather watch case comes in black or white leather with gray velvet interior. If you like, it is available in a wooden finishing as well. Your father-in-law's precious collection will be safely kept and nicely displayed with this leather watch box.
Acorn Men's Moc Slippers
AMAZON.COM
Does your father-in-law experience foot aches and is having a hard time walking at home and blames his slippers for it? Well, this is the time to take over and help ease the weary feet of your father-in-law. On Father's Day, gift him comfort through this Acorn Moccasin Slippers. They are very comfortable because of their soft fleece uppers and memory foam cushioning support.
The real suede sidewall and rubber outsole provides skid-resistant traction both outdoors and indoors.
Philips Norelco Vacuum BeardTrimmer
AMAZON.COM
Give your dad-in-law a groovy way to trim his beard. On Father's Day, gift him this Philips Norelco Vacuum Beard Trimmer. This is a trimmer and with vacuum function taht captures cut hairs for mess-free trimming. He can groom and trim his beard without even clogging the sink or messing up the bathroom floor.
The blades of this trimmer are maintenance free and they stay sharp without oiling. He can shape his beard precisely as he wants because this is measured in millimetres unlike in traditional barbershop guard numbers. He can use this trimmer for up to 75 minutes on a single charge. It can work cordless or while tethered to a power point. Impress your father-in-law on Father's Day with this great gift idea.
Direct-Drive Turntable
AMAZON.COM
Is your father-in-law a die-hard fan of music the old-fashioned way? Is he fond of playing his music and just can't get into digital conversion of his jam and prefers actual vintage vinyl records. Is his player already rusty and not usable anymore? This is your time to show your best to your dad-in-law. Why not give him a sleek, yet affordable turn table for Father's Day? This turntable runs on fully automatic operation with two speeds. It can also be connected directly to a stereo, component, computer which does not have any input for turntable. Your father-in-law can enjoy his old records the way he wants it but with a twist of technology too.
He is a foodie and he appreciates anything that is scrumptious. Instead of giving him something to munch on on Father's Day, why not add a little zest to it? Send him on a food tour.
On top of the palatable treats is a festive sight of the city with the help of the tour guide. This would be an awesome way for your father-in-law to celebrate his special day.
Guided Hiking Tour
CLOUD 9 LIVING
If you wish to give your father-in- law a memorable gift on Father's Day then you have think outside the box and consider the things that he likes most. If he is a fan of the great outdoors then venture on to an activity with him on Father's Day. A Guided Hiking Tour would be a perfect gift for him since this would bring more memories that will be cherished forever. You can even bond with him and tag along your mother-in-law and your partner or even the kids too. Make Father's Day a family activity to turn this day into a phenomenal holiday for the rest of the gang.
Father's Day is a great way for you to bond with your second father, your father in law. If you are already close to each other then you can make your relationship grow fonder through this holiday. You can mark this day as a means to show them how thankful you are for having great in laws and for molding your partner in life to the best person that he or she is now.