Well, just like clockwork, Valentine's Day rolls around each and every year.  It's a great day for red hearts and pretty flowers.  But, don't forget the pink flamingos!  Yes, for a lady or gentleman who cares even a little bit about those fascinating feathered creatures, pin k flamingos can bring to mind some very romantic notions.   And, though they many not be quite as willing to admit it, men can be just as susceptible to the allure of the flamingo as women.
So, for that special February day, or any other day when romance just might be in the air, think pink!  Presented here is a page full of ideas for fun flamingo themed gifts for your sweetheart, or just a favorite person in your life.
---
Pink Valentine Flamingos for MiLady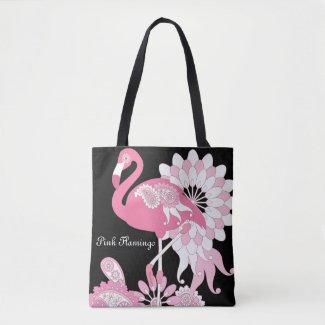 Whimsical Paisley Pink Flamingo Tote Bag
ZAZZLE.COM
Sweet and feminine, yet totally whimsical describes this cool tote bag that is sure to delight any flamingo loving lady.   Choose either a medium (16″ sq.) or a large (18″sq.) size in this customizable bag.  To personalize, simply replace the words "Pink Flamingo" with a desired name.
The eye catching artwork for this bag is designed by Wind-Up Sprout Pattern, an independent designer whose unique work can b e found showcased at Zazzle.
The Whimsical Paisley Pink Flamingo Tote Bag is made in the USA and features cotton web handles and polyester interior and reinforced interior.  Available in both classic tote and cross-body styles.
Sterling Silver Flamingo Earrings and Matching Necklace
AMAZON.COM
Every lady loves a new piece of jewelry now and then.  This matching set, consisting of a pendant necklace and french wire earrings is accented by lovely pink rhinestones, and set in .925 sterling silver.
Because the bird charms used are 3 dimensional, pendant and earrings look equally nice from both the front and back.  Sometimes, it's the details that really count.
Happy Valentines Day Flamingo Lovebirds 45 Piece Box Of Chocolates
ZAZZLE.COM
There are not many things that are more traditional to give on Valentines deay than a box of yummy chocolates.  But, around that time of year, all those boxes of candy seem pretty much the same.  It's like humdrum has set in to the valentine candy industry.  Until now, that is!
Forget the red box with the big shiny bow.  Here's a box with a lovey dovey pair of big pink exotic birds.  Yes, there really are Valentine Flamingos on this box of chocolates.  That should make some of that humdrum go away, now, shouldn't it?
---
Flamingo Gifts for Him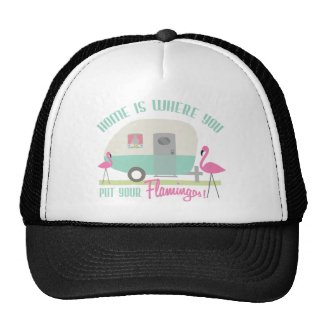 Home Is Where You Put Your Flamingos Retro Trailer Trucker Hat
ZAZZLE.COM
Some guys seem to just love humorous caps,  If your guy is one of those, he's sure to get a bit of a kick out of this one.  Yeah.  You know all about those endless jokes centered around plastic yard flamingos.  So,you just might as well roll with it.  In a travel trailer, that is!
Funny flamingo hat sports a travel trailer, complete with a couple of very special lawn ornaments, along with the slogan "Home is where you put your flamingos."  Just the sort of thing a guy would enjoy wearing on a lazy Saturday.
CowCow Flamingo Bird Men's Sport Mesh Tee
AMAZON.COM
This just may be the ultimate pink flamingo shirt for men.  What's the most important consideration of all for most men when choosing a garment?  How it looks?  The fit?  No.  It's comfort – first, last, and always.  And that's the story with this tee.  It's made of one of those amazing fabrics that he'll fall in love with because it feels so good.
Not only that, this fun tee comes in over a dozen bright color choices, so his favorite is just bound to be among them.  And, this machine washable wonder is available in size XS, all the way up to 3XL.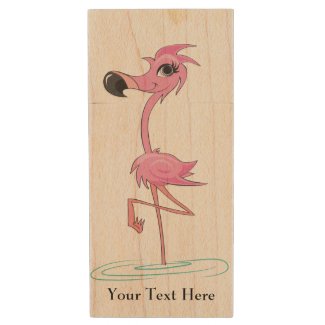 Personalized Goofy Pink Flamingo Wooden Thumbdrive
ZAZZLE.COM
Show ma a man looking at a drawing of a goofy flamingo, and I'll show you a guy with a smile on his face.  There's nothing better to cheer up a flamingo lover.  Unless, of course, it a goofy flamingo with his own name under it.
So, go ahead, personalize this silly pink flamingo flash drive with his name.  He'll happily carry it around in his pocket for that all important flamingo data emergency that's sure to arise.  Available in a variety of capacities.  And don't worry, it's plenty manly.  It's made of wood.
---
Flamingo Gift Ideas for Anyone
Bahamas Flamingo Coin Pendant Necklace
AMAZON.COM
The Bahamas Flamingo Coin Pendant Necklace a unisex jewelry piece that anyone  – male or female – can really get excited about.  Coin jewelry is popular with both men and women, and this piece is really special for flamingo lovers, who will tell you that the Caribbean Flamingo is the national bird of The Bahamas.
This pendant started out as an actual Bahamian two dollar coin that was minted between 1966 and 1989.  The detail, which includes a pair of flamingos and a rising sun, are cut out, and then coated in 14 karat gold and rhodium plating.  The coin it then hung on a similarly plated rope chain.
Flamingo Flamboyance Car Floor Mats
ZAZZLE.COM
For the flamingo lover who seems to already have just about everything – something different for the floor of their car or truck – pink flamingo vehicle floor mats. Flamingos gather, not in flocks, but in a stand or flamboyance.  Pictured on the mats is a flamboyance in a lush tropical setting.  They stand in a shallow pond, where their reflections show on the surface of the water.
The car mats can be purchased as a full set of four 9two each for the front and back of the car), or as a set of two in your choice of front of rear mats.
Waters Edge Flamingo Wind Chime
AMAZON.COM
A  little tinkling flamingo fun might be a nice touch for their garden, yard, or patio.  After all, anyone who spends any amount of time outdoors at all will want a pleasant atmosphere to enjoy.
A pair of pretty pink flamingos presides over a cluster of other reminders of the tropics, including sand dollars and palm trees.  All are metal, to provide a soft and pleasant bit of background sound to accompany your romantic conversation.  Bead accents lent and additional touch of color.
The overall length of this cet of chimes is just 12″ – ideal for those spaces that aren't quite the size of Texas.