Valentine's Day is here. We can smell the heady aroma of love in the air everywhere. It isn't easy to find someone to love and for that someone to truly love you in return but once you find that right person, keep him or her and do not let that love fade.
If you know a couple who truly love each other and display their love for each other proudly, show them that they are lucky to have found their true love. Giving them a Valentine's Day gift is a nice way to let them know how others appreciate their love for each other and this will also inspire them to keep their love true and genuine. Check out these cool gift ideas that will make a loving couple enjoy a romantic Valentine's Day together and forever.
A customized love poster for couples who love each other so dearly is a perfect and one of the sweetest gifts to give on Valentine's Day. There are several designs and themes to choose from.
It is best to give personalized love posters because it makes your gift more special. It makes your gift significant to the receivers. They will feel more special to receive an exclusive love poster on Valentine's Day.
There are love posters that tell the love story of couples in love, posters with dates of important events in their relationship, their history together and so many other ideas to choose from. Love posters are cute and romantic gift to share couples you know.
Dalmatian Couple's Shirts
AMAZON.COM
Remember the love story of Roger Dearly and Anita Dearly in 101 Dalmatians? Don't forget Pongo and Perdita! It is a story of true love. This shirt reminds me of those lovers. A Dalmatian is a loyal companion. It is a perfect representation of honest love.
A couple should be loyal to each other and not loving anyone else whilst in a relationship. A couple should love their partner with all their hearts. This shirt reminds them of giving their partner an honest love and being loyal to each other. This couple shirt fits comfortably. Made from 100% cotton. This is a wonderful gift to share with a couple who are in love.
Cross Couple's Necklaces
AMAZON.COM
A romantic gift for couples! This is a wonderful gift that reminds the couple of putting God as the center of their relationship. A relationship is invincible if they have God as their foundation.
They will be reminded to be faithful to their partners and love their better half whole heartedly. If they know how to love God they can love each other without any hindrance and difficulty. Being in love is a gift that every couple needs to nourish and keep. It is a seed that they planted that needs to be nourished to become strong, healthy and fruitful!
This titanium-stainless steel necklace is a wonderful gift to share. It is 100% hypoallergenic and nickel free. Great gift for couples on Valentine's Day.
Isn't this the most romantic pillow you have ever seen? This gift will make a lovely accent in a lovely couple's living room! They will love this customized throw pillow showcasing their romantic photos together. It will remind them of their lovely time together and this will also inspire them to create more wonderful memories together.
The pillow is made from high quality fabric. It looks perfect on their couch or bed. The best thing about this gift idea is it is personalized, making this gift exclusively theirs. Imagine how grateful they will be to receive this gift.
Two hearts meant for each other. This is how I describe a couple who only have eyes for each other. Loving someone and keeping their promise to love each other come what may is easier said than done.
This mug will remind them to keep holding on to their faith and their promise to love each other. Imagine how romantic their breakfast will be with this mug.
This mug can be customized, making it a special Valentine gift for a lovely couple you know.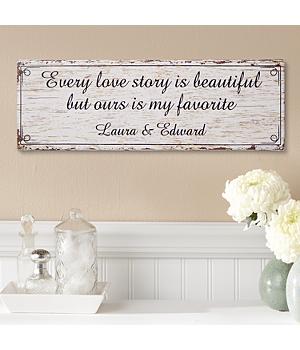 Every Love Story Canvas
PERSONALCREATIONS.COM
A canvas that will tell everybody their love story. If I were the one to receive this I will be proud to hang this on my living room wall to let everybody know my love story.
This makes a perfect Valentine's Day gift to a couple staying together. It displays a creative piece of art that gives tribute to a great relationship of a particular couple. What's great about this gift is that it can be customized for the couple you are presenting it to.
This is a marvelous Valentine gift for couples that will let them appreciate the love they have for each other.
Player 1 and Player 2 Hoodies
THINKGEEK.COM
Isn't this a cute Valentine's Day gift to share with the couple you know? Matching pullover hoodies for couples are such cute and practical gifts. They will look absolutely adorable wearing these together.
A relationship will not be successful if it is only one party working hard to make it work. It is a game that both the couple should work hard to reach their milestone. Inspire them with this Valentine's Day gift. They will surely love this gift.
Star Wars I Love You / I Know Necklace
THINKGEEK.COM
This is my favorite gift item. I like the idea of this couple necklace. The phrases on the necklaces were uttered to each other by Han and Leia and these words are forever immortalized in geek fandom as the ultimate symbol for true love.
The first half of this necklace says "I Love You" and the other half answers "I Know". This necklace puzzle makes a romantic gift idea for couples who are so much in love with each other. It shows how they are made perfectly for each other. You only meet your soulmate once in a lifetime and nothing can separate you. Not even a galaxy far, far, away.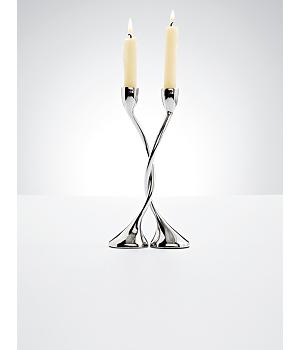 Twist Candlesticks
REDENVELOPE.COM
I am so crazy about this candlestick when I first laid eyes on them. I love them so much. They look intertwined and inseparable. Like two lovers who love being in each other's embrace, holding hands, and hugging to express their love for each other.
These polished nickel-finished candlesticks look gorgeous together on the dining table especially on Valentine's Day. They will surely love them and they will definitely use them on their Valentine's Day dinner. It will create an absolutely romantic ambiance on their magical night together.


A Valentine's Day gift for couples can help inspire them to love each other more. Make a loving couple's celebration extra special with a special well thought of gift.