Photos keep memories and bring happy thoughts. They somehow rekindle all the happy moments your mom have. A photo gift for your mom is a wonderful gift idea that will make her keep those happy memories with her all the time.
These are unique photo gift ideas that keep photos in many different and stylish ways. Check out these photos gift items that your mom will love to have. Let her keep those memories that will make her happy every day.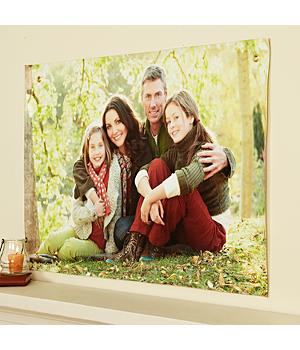 Photo Canvas with Grommets
PERSONALCREATIONS.COM
Pick her favorite family picture and have it suspended anywhere your mom wants it. She will be delighted to see this gift idea hanging on her wall. This gift idea is professionally printed on high quality canvas and vibrant color. It has fitted grommets so that you or your mom won't have any trouble hanging it anywhere you wanted to hang it. Just upload her favorite image and let the masters blow it up and print it with the best result. Display this happy memory hanging on the wall so your mom can always see it and remind her how loved and lucky she is.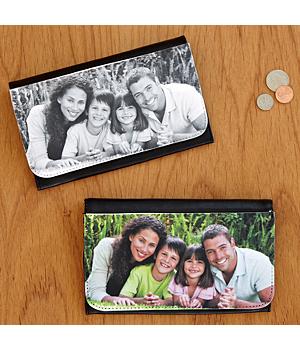 Photo Wallets
PERSONALCREATIONS.COM
Your mom will fall in love with this photo wallet made from faux leather. The best feature of this photo wallet is its zipper compartment for coin. It also has 6 credit card slots 2 pockets for bills and receipts with Velcro closure. Upload your mom's favorite family photo or both of you. This is a simple gift idea but has a sentimental value. It is something to remind your mom how loved she is. She will be using this purse a lot, seeing this lovely photo everyday will make her feel that you are with her all the time. Great photo gift and a practical one too!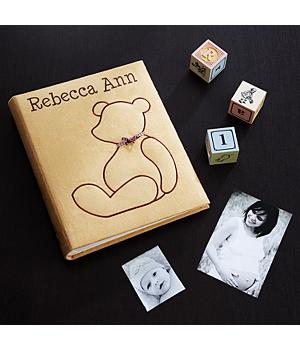 Suede Teddy Bear Photo Album
PERSONALCREATIONS.COM
Give her the perfect place to store in her favorite family photos. Mothers love to keep memories of her family. This gift idea is the best place where she can keep her treasured photos. This lovely photo album is covered in tan suede that has a neat and simple look. This also has an embroidered silhouette of a cute teddy bear on its front cover. The best thing about this gift idea is it can be customized and have her name or the family name be added on it. She will absolutely love this gift idea. Perfect for any type of occasion.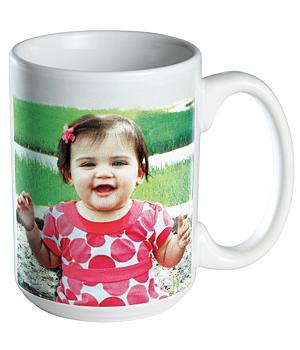 Photo Message Mug
PERSONALCREATIONS.COM
Imagine how your mom will love her morning coffee. This mug will surely brighten up her day, seeing a photo of her happy family or a photo of you with her will absolutely make her day wonderfully happy and bright. This gift idea is simple yet it will really make her happy. This gift idea is perfect on any type of occasion making your mom feel happy, valued and loved. This is a great gift for the most lovable mom. Add a personal message on the other side of this mug. Make this mug exclusively for her. She will love this.
Rotating Photo Frame
PERSONALCREATIONS.COM
A new way of displaying photos in a photo frame. This rotation photo frame offers a new way of displaying your mom's favorite photos. This photo frame has a distinct double-swivel design with a distressed white wood frame that gives her the avenue to display twice as many photos she likes. Make this photo frame even more special by having your personal message be laser engraved on it. It will add more beauty in her living room. This gift idea will keep great memories that your mom will treasure forever.
Photo Accent Pillow – Antique Border
PERSONALCREATIONS.COM
A wonderful gift that your mom will love to cherish and hug. Now with this gift idea your mom can hug her sweet memories of you and the rest of the family. Pick her favorite family portrait and have it printed on this lovely throw pillow. It is an off-white cotton canvas with zippered back. It is so soft making it so comfortable to hug. She can hug this and give her comfort while watching television or reading her favorite book. This is a simple gift item but it cherishes wonderful memory of you, your family and your mom.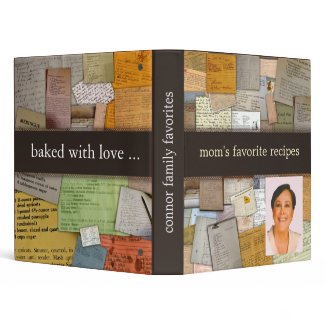 Photo Recipe Binder
ZAZZLE.COM
Surprise your mom with an eye-catching custom signature binder for her favorite recipes. It has a unique design making it exclusive for your mom. Her photo can be added on this stylish binder, making this gift idea really special. Your mom will be freaked out to see compilation of all her favorite recipes in this personalized binder. This gift idea will be treasured and valued by your mom for sure. She will definitely feel special with this gift idea. Perfect gift idea any type of occasion. Great pick!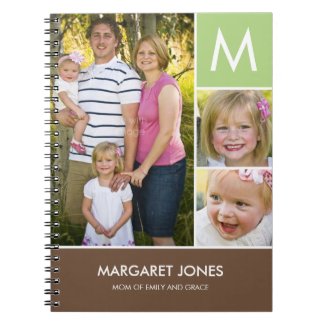 Stylish Initial Personalized Notebook
ZAZZLE.COM
Take a look at this stylish personalized notebook. This will surely make a lively gift for your mom perfect for any type of occasion. Let her be inspired to organize her day, plan ahead or write her journal on this personalized notebook. Her favorite photos will be placed on the front cover with text, personal message or her initials printed on the front cover. Show off your mom's personal style. Make this gift idea special by making it personalized and exclusively for her. She will love this for sure!
Mom Matte – Jewelry Box (Plays Wonderful World)
AMAZON.COM
This is a perfect gift for your mom. This gift idea will make her cry and feel so loved. This jewelry music box can be a keepsake for your mom that will keep beautiful memories that will last forever. It plays a lovely and clear music that she will truly love. You will never regret giving this gift to your mom. It can be given on any occasion. Nice keepsake that perseveres precious memory your mom treasures.
Photo Charm Bracelet
AMAZON.COM
This stylish toggle silver links bracelet will be a big hit. This will surely catch and get a lot of complements. She can place her favorite photos of her children, loved ones, husband and parents. This is a small gift that brings a gigantic happiness to her. It keeps memories that she treasures. Let her bring those memories wherever she goes. A gift that makes her look stylish and a keepsake that cherish wonderful memories that she can keep with her anywhere she is. Absolutely a lovely gift to give your mother on any occasion.



Your mother would love any of this gift items as long as you have your love in that gift. She will truly appreciate any gift you will give her, what she would want more is you to be safe and for her to see you happy. Make her feel loved and special not just on Mother's day or her birthday, but everyday of forever.